Most salespeople do not follow up enough times with prospective leads. Whether it's out of fear of being pushy, not wanting to bother anyone, or they're just too busy to remember to follow up, 44% of salespeople give up after the first try. It's not a far fetch to say that those people are missing out on a huge amount of sales that would have been available if they took the time (or automated!) additional follow-ups with that contact.
Email sequences are available in HubSpot Sales Hub Starter, Pro & Enterprise (read more: What's the difference between HubSpot Sales Starter, Pro & Enterprise) and are a great way to automate your sales follow-up and reduce your sales' team effort that is spent on chasing contacts who haven't replied to your previous outreach efforts.
How Sales Sequences Work

If you have HubSpot Sales Starter, Professional or Enterprise, you can enroll any of your contacts into a sales sequence via your native email tool (Gmail or Outlook) or from your HubSpot portal. This queues up a series of automated emails that will be sent to them at a cadence that you set.
Via Gmail or Outlook integration
Your contact will be sent all the emails in the sequence, at the cadence that was set, unless they reply to an email or book a meeting and automatically unenroll from the sequence.
Creating a Sequence
In HubSpot, go to Automation > Sequences and you'll see a list of existing Sequences that exist in your account. You can also create new sequences here.
To build out your sequence, click the plus arrow and identify what's going to happen in your Sequence: sending an email, creating a task, or something else?
Build out all the steps you want/need in your sales sequence and then save it.
Complete Tasks Before the Next Step
Note that when you create tasks you will have a little checkbox option to "Continue without completing task". This is a way for you to pause or stall your sequence if the task has not been completed. In this case, the contact will not move through to the next step in the automation until I have completed the task to Connect on LinkedIn.
Add Delays
When sending emails, you want to make sure you space them out appropriately. Each step allows you to determine how much of a delay you'd like: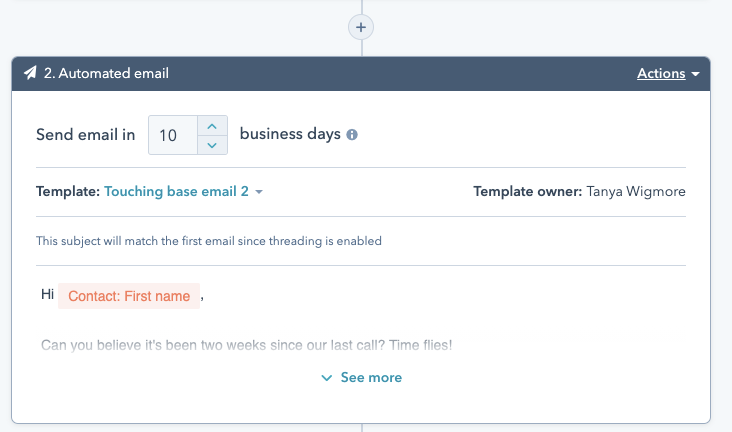 Day/Time Restrictions
Depending on your audience, you may want to limit the days/times of your email sends. If your office is a traditional M-F 9-5 environment, it might look really odd for an email to come in from a salesperson at 3am Sunday morning. You can adjust your send day and time restrictions in the Settings.
Email Templates
Finding your email templates is not straightforward as they're not kept in with your marketing email templates, your sales tools, or your sequences and automation. Instead, you will find your sales sequences email templates in Conversations > Templates.
Personalization & Placeholders
You are able to personalize your email content based on what you already know about the contact that it's being sent to. To personalize your email, you'll want to use the personalization tokens that are available in the email editor.
It can helpful to further personalize your email with some content that is specific to this contact but NOT stored in HubSpot. But it's so hard to remember to do it each time! If you struggle with remembering to go in and add some personal touches you may like the use of "Placeholders" that are red and bold to remind you to go in and edit those sections before you queue up your email.
These allow you to write emails that have a personal touch and include all the key information with much less effort than starting from scratch.
Inserting Documents, Meeting Links, & More
When you're editing your emails you can create additional 'shortcuts' to make quality emails with ease.
Snippets - are sentences or paragraphs that you use frequently that you'd like to add to your email. Instead of the full email template, these are shorter pieces of content that you'd add to an email. Some content opportunities for snippets could include product/package details, contact information, onboarding steps and documentation, etc.
Documents - if you have tear sheets or any other documents that you frequently send to contacts, you can keep those in HubSpot and attach them to your email as documents. Doing it this way gives you increased visibility into who is interacting with your documents, info that isn't generally available when you add those documents as physical attachments in Gmail or Outlook.
Meeting links - to have your direct calendar booking link.
Video - record and/or embed a video right into your template.
Stopping a Sequence
Sequences are designed for sales outreach. When someone books a call or meeting with you, or replies to one of your emails with a question, you want to make sure you engage with them naturally and remove them from the sales sequence.
Sales Sequences are 'smart' in that they will automatically unenroll contacts when:
The contact replies to an email (generally, out-of-office notifications will not automatically unenroll from sequences)
That contact sends an email to you from the email that they're enrolled in the sequence with
The contact sends you an email from an email address that is in the contact record as an alias of the email that's enrolled in the sequence.
If you've selected "Unenroll contacts from the same company" in a sequence, your contact may be removed from the sequence if one of their colleagues is also in the sequence.
The contact books a meeting with you that is added to your 'meetings' in HubSpot (either by the meetings link or if you've added the upcoming meeting manually)
The contact 'unsubscribes' via the unsubscribe link
The contact's email address bounced
Contacts will also be unenrolled when/if:
The workflow is deleted
The sequence creator is deleted from the account
The contact is manually unenrolled from the sequence
Should you use Sales Sequences or Marketing Workflows?
>>Further Reading: Email Workflows vs Sales Sequences
Both Sales Sequences and Marketing Workflows are powerful sales & marketing automation tools. If you're not sure which one you should be reaching to streamline and automate your outreach, please contact us. Our free, no-obligation chat about HubSpot automation with one of our HubSpot Specialists can save you a world of headache and maybe even a few hundred dollars a month.