Creating blog posts, ebooks, videos and other valuable content are great tactics for boosting traffic and engagement with your brand. But if you want to drive the right kind of traffic to your website, you need to have a content strategy (or inbound marketing strategy) in place.
Watch the video!
We covered content strategy and planning in our HubSpot User Group (HUG). Watch the recap here and join our HUG for upcoming events!
What is inbound marketing?
Inbound marketing is a strategic approach that focuses on creating high-quality content in order to attract leads and nurture them through the buyer's journey. How does that work in practice? Usually, this is broken down into four marketing stages:
Attract
Convert
Close
Delight
The first stage is Attract. This is when you're trying to attract new prospects to your website. Typically, this involves creating content that someone could be searching for, or providing answers to questions potential customers could have. Using blog posts, search engine optimization (SEO), and social media are just a few ways this can be accomplished.
Once you've attracted these visitors to your site, the next step is to Convert them into leads by collecting their contact information through a landing page, form, or chat tool. But not everyone wants to give up their information for free, which is why you'd want to offer something useful in return like an ebook, free quote, consultation, etc.
After you've obtained their information, then you move onto the Closing stage, where leads are turned into customers. This is achieved through email nurturing, marketing automation, and sales enablement.
The last stage is Delight. Even when someone becomes a customer you still want to keep them engaged through things like product offers, special content, and social media. Current customers can become your biggest advocates so don't forget about them.
But what content should you use for each stage of the Buyer's Journey? This is where your strategy comes into play.
Identify a Content Theme
Choosing the right content is critical to attracting the right contacts. Knowing what topics to focus on can be a bit elusive but we have some suggestions to identify what you should focus on next.
Review existing content gaps - are there areas of content that you already know are missing from the site?
Talk to sales - they can share with you the common questions, objections and goals that prospects have.
Do some competitive research - what are your competitors writing about?
Dig into analytics - identify hot search topics and areas where you're already getting good traffic and leads (or ones that are underperforming).
Check Google Trends - to identify breakout topics that might not be on your radar.
People also ask - searching for your top target keywords in Google and seeing what shows up in the "People also ask" box can give you additional content ideas.
Review your target persona
If you haven't yet clearly defined your personas, take some time and go do it now.
Once you have completed your persona worksheet, you'll be able to answer:
Who are you speaking to & what content is important to them
What are their goals & objections
What are their specific questions & interests
Where do they get their news & updates
What keeps them up at night
By knowing this, and combining it with your knowledge of your products and services, you'll be able to find the distinct overlap where your product or service can become the hero that solves their problems.
Plan your campaign assets
While every campaign will vary, a solid approach for your inbound marketing strategy is to include one main piece of content, called a pillar page, that you can use for lead generation. Additionally, you should create multiple supporting content (blog posts, videos, infographics, etc.) that drives visitors back to that main content piece.
Sharing those blog posts or supporting content on social media and through your email lists at a regular cadence (such as once per week) can enhance visibility and increase the likelihood that one of your messages will stick with your intended audience.
Your quarterly inbound marketing campaign could consist of:
One main piece of Pillar content that should integrate some form of lead generation
12 blog posts or content pieces posted at a cadence of one per week over 12 weeks
Weekly sharing of your new content on social media
3-4 inclusions of your content in email newsletters or stand-alone email sends
1-2 email nurture workflows for anyone who submitted the lead generation form
HubSpot Campaign reporting
Before we get into campaign reporting, let's first talk about HubSpot Campaigns.
In HubSpot, tagging your assets with a campaign is a way to group related assets and content together into a singular marketing campaign for the purpose of reporting.
For example, let's say you're putting together a webinar. To promote it, you'll have a dedicated landing page, a form to fill out, a handful of social posts, emails, and blog posts. By tagging all of those together as a single campaign, you can view the overall performance of all assets in one place.
Below is an example of the type of dashboard you'll see for your campaign reports. You can get here by navigating to Marketing – Campaigns – and then clicking on your campaign, which will take you to your campaign's performance tab.
Here, you can review top-level KPIs like sessions, new contacts, etc. There's also a line graph where you can see new contacts, sessions, and influenced contacts over time. Finally, you'll be able to see the individual performance of assets in your campaign – whether they're emails, blog posts, ctas, etc.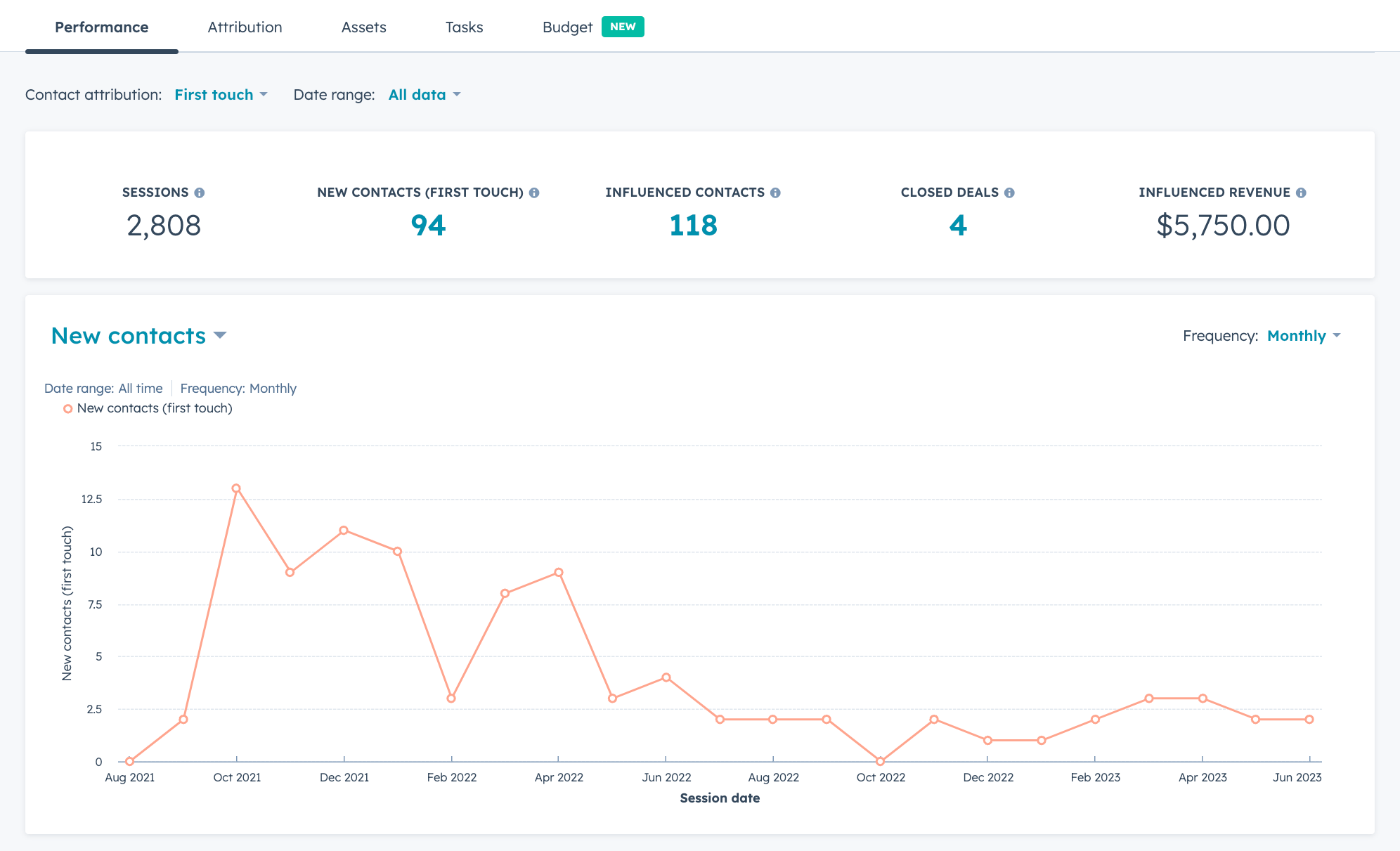 Dive deeper into the Performance and Attribution tabs
You can break down the performance of your assets to determine which ones performed better. For instance, if you had multiple blog posts within the campaign, you can see which generated the most submissions or contacts. This insight could help you determine what type of post to prioritize for future campaigns.
Additionally, you can explore the other tabs to dive into more detail. For example, the attribution tab breaks out how new contacts, deals or revenue was created. This can be seen by asset type, source (organic, referral, direct), and interaction type (pageview, form, cta click). By reviewing this information, you can learn which asset types are best effective for your company's needs.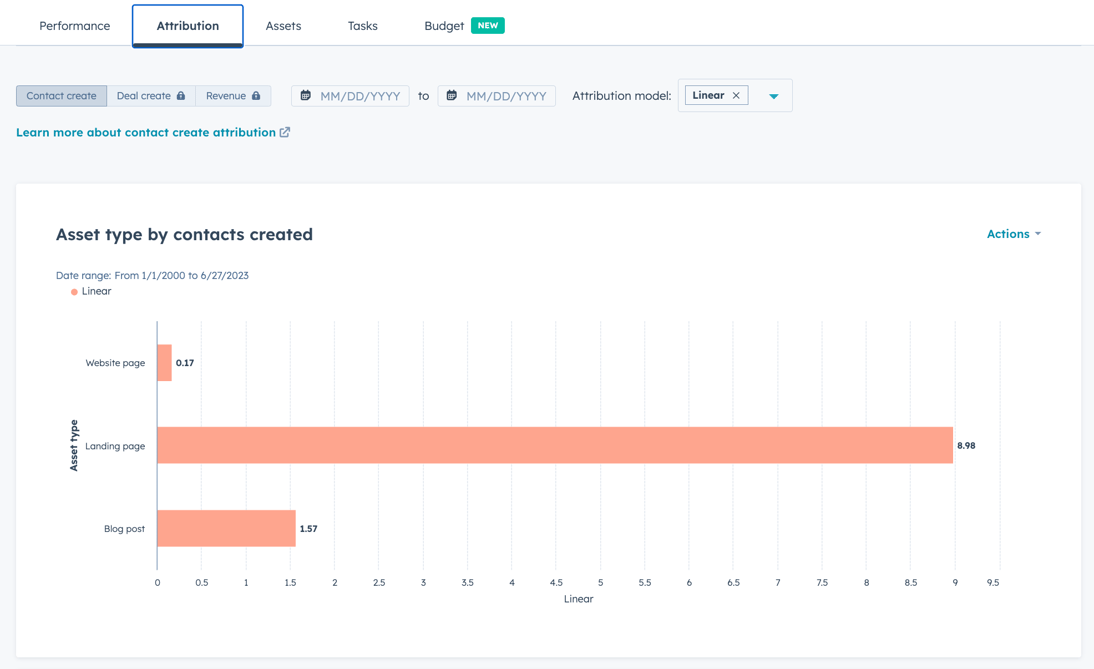 Why compare campaigns?
After publishing multiple campaigns, you can compare their engagement, top KPIs, and various asset types (blog posts, emails, etc) to see how they measure up against each other. For example, you may discover that one campaign drove more sessions, while another one created more contacts. Being armed with that data helps you determine what type of campaign to run depending on your specific goal.
Report, refine, and repeat!
Each campaign you run is a learning opportunity as to what content works best for which persona. You may find that some content is great for search but fails to drive conversions, while others generate minimal organic traffic but have a high conversion rate. By setting clear campaign goals and measuring their performance against them, you can accurately determine which campaigns are a success based on your actual objectives, rather than relying on superficial metrics.
What about our landing pages and blog pages that aren't hosted in HubSpot, can we track those? Read more about tracking non-HubSpot content in HubSpot.
Want a hand?
We're happy to help! Contact us for more information on content strategy, lead gen strategy, email nurturing and custom reporting.