HubSpot campaign reporting can be a very powerful tool to see which campaigns are driving the most traffic, generating the most leads, and converting to actual revenue. But what about when some of your campaign assets aren't hosted on HubSpot?
How to track blog posts and landing pages that aren't in HubSpot
If you are using blog posts and landing pages that aren't hosted in HubSpot but are part of your campaign, you have a few options.
Add HubSpot Tracking Code to Your Site
First you need to make sure those pages are being tracked in your HubSpot analytics. If you go to Settings > Tracking & Analytics > Tracking Code, you'll be able to grab the tracking code to install onto your site. Add it to the bottom of every page, right before the </body> tag. This will let you see your non-HubSpot page data in HubSpot.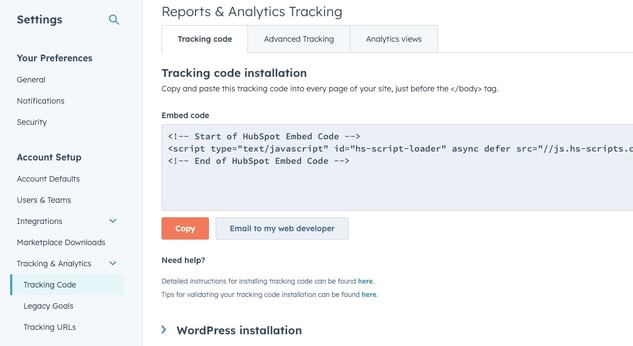 You'll be able to view the performance of this content, but it won't necessarily tie into your HubSpot campaign reports unless you're also using some other tagged assets.
Embed tagged CTA & forms
Each CTA and form that you build in HubSpot can be tagged with a campaign. Embedding your CTAs and forms in your non-HubSpot pages can get that campaign data attributed to those pages.
Generate campaign tracking URLs
HubSpot makes it pretty easy to generate links with your UTM tracking codes to associate activities with a campaign. When you go into Analytics Tools you'll see the option to build these at the bottom of the page (shown below) or you can hop into Campaign Analytics and use the UTM builder on the specific campaign page.
Any time someone clicks one of these links that data will be associated with the campaign you've selected for it. It will also push into Google Analytics so you can segment and report on your campaign performance there, too.
Build a custom dashboard
If you want to include assets that aren't getting tagged but are getting tracked (such as blog posts and landing pages) you can build a Campaign Dashboard and add those assets to the dashboard as custom reports. This can give you the most complete picture as to how your campaign is performing.
Have more HubSpot Analytics & Reporting questions? Please drop us a line and let's talk data attribution!