After a while, your HubSpot CRM will be full of contacts that are great leads and customers but you'll also have a lot of contacts that are terrible leads, outdated contacts, or just straight-up junk. You may be spending your hard-earned cash as you have to pay for additional contacts in HubSpot when your account passes certain marketing contact thresholds. The easiest way to keep a clean database is to check your contacts and clean up junk and errors on a regular basis. Depending on how many contacts you're generating, this could be a quarterly, monthly or even weekly review process.
Here are some tips for conducting a HubSpot CRM contact audit.
Audit Frequency
How often should you conduct an audit? That depends on how many contacts you generate during that period. If you're adding fewer than 100 contacts a month you may be fine doing audits on a quarterly or monthly basis. If you're generating more than 100 contacts a month, you're likely going to want to increase that frequency and do it on a weekly basis. The best person to do a contact audit is the contact owner. Too many contacts with no official owner? Create a list in HubSpot of "contacts with no owner" and delegate the maintenance of this list to someone in your organization.
Find and Remove Invalid Contacts
People enter junk info into forms all the time. They might be people who are entering asdf@asdf.com as an email address, putting in other random junk, or (my personal favorite) they might make up some funny alter-egos when submitting forms. People are not usually super creative and searches in your database for 'asdf' or 'test' will likely surface a few results. You'll also see these guys resurface in your hard bounce reports.
'Not Delivered' & Bounced Emails
Hard bounces are when emails are completely rejected by the server. This usually happens when someone has entered an email address that doesn't exist. If they don't exist, delete them!
Soft bounces can happen for a variety of reasons, including the recipient's inbox was full, the server couldn't connect, or the email that you were sending was too large and was rejected by the receiving server. When you filter your HubSpot contact list by those who have had a marketing email bounce, your list will be full of these. Some will be old contacts whose information is no longer valid. Others will be legitimate contacts who should be receiving your emails. It's important to differentiate here that they may still be receiving your 'normal' emails but 'marketing emails' are not being accepted by their server. Check the Legal Basis settings of those contacts to ensure that they've opted in to your marketing emails and have provided verifiable consent.
Unbouncing a Contact in HubSpot
If you have Legitimate Interest in marketing emails in place and your contact has 'bounced' you can override that default setting in HubSpot to "Unbound" the contact. Go into the contact record and first double-check that all of their contact information is correct. If it really is right, you can click the "Unbounce" link right above their name and you can get them back on the mailing list.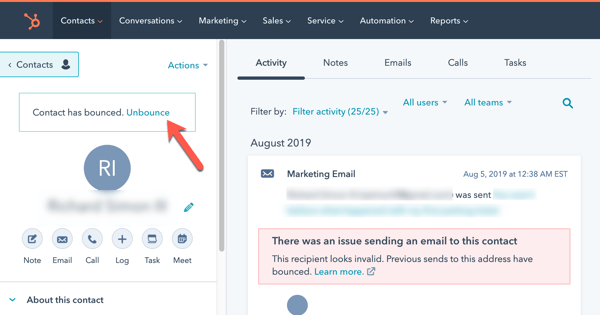 Find & Merge (or Delete) Duplicate Contacts
The default "duplicate records" tool in HubSpot leaves a lot to be desired but with the new custom unique IDs for contacts features, it can be a good place to get started on finding duplicate contact records in your CRM. Additionally, you can sync contacts between two HubSpot portals to manage duplicate contacts effectively.
You may have duplicate contact records for people who:
use more than one email
have moved from one company to another
have contact records generated by 3rd party tools and plugins (external forms, call tracking, APIs, etc.)
you have incorrect contact data
In some cases, you'll want to merge the records to keep the activity records for both contacts. In other cases, you can simply delete the 'junk' duplicate if that information is all outdated. You'll want to use your discretion on that one as to whether the old activity record still matters for your business.
OLD & Unengaged Contacts
Some contacts are still legitimate contacts who are receiving your emails, but who have completely checked out of whatever you're trying to say to them. They're not opening emails, they're not coming to the site, they've AWOL'd. Filtering your list of contacts by date of last activity can help to identify those contacts who haven't engaged in the last however many years and are likely not going to.
Missing Contact Info (First Name or Last Name Unknown)
If your forms are collecting emails only, or if your team is being selective/lazy on their data inputs, you might have some contacts who don't have a name associated with their contact record. If you're emailing these contacts, they're going to get messages that are showing your system defaults instead of personalization which is a poor user experience and is adding friction to your flywheel. Every industry and use case is a bit different, but in many cases, a missing name field is a good idea that you don't know who you're selling to, which makes is harder to move towards a conversion.
Identify "Marketing Contacts"
It's important to note that only contacts whose 'Marketing Contact Status' has been set to 'Marketing Contact' will count towards your contact tier. Non-marketing contacts will not count. By creating filtered and segmented contact lists in your HubSpot CRM and utilizing workflows to set or update your contacts' SMS or WhatsApp subscription status, you'll be able to identify who needs to be set as a "Marketing Contact" and will be able to receive your marketing communications and who will not. Changing the status of those contacts that you're not actively reaching out to can help bring down your contact numbers if you're about to hit your billing threshold.
Additional Conversion Points & HubSpot Scores
If you're using HubSpot Sales Pro, you're able to set some custom HubSpot Score properties so you can identify actions that make someone a great sales potential. If you have this set up and are generating HubSpot Scores you can filter your contacts to identify the really poor fit candidates who you might want to just take out your list. It can also help to flag those potentially high-value contacts that you won't want to remove. If you're not using a HubSpot Score attribution, you can still identify some of the main KPIs for your contacts and filter (and delete) unqualified contacts based on those KPIs.
Use Workflows
A lot of the above can be automated with HubSpot workflows so you can create lists of "for review" contacts that contact owners should check in on. Automation with workflows is a great way to take the menial work out of this and now with the ability to set or update your contacts' SMS or WhatsApp subscription status using a contact-based workflow, it's even more powerful.
Bonus Activity: HubSpot List Audit
Santa makes a list and checks it twice. Most HubSpot users make a list and check it never.
When your regularly scheduled contact audit comes along, also take the time to do a list audit and review the new consent management settings.
Delete old import lists (it doesn't delete the contacts!)
Delete list for OLD events (their event info is likely still on their contact record)
Delete unused list from deactivated users
When you delete a list you are not deleting the contacts on that list, just the unique grouping of them in that particular list.
If you think you're going to need to group those contacts for that particular reason again, tag them with a custom property (or update the regular property) with whatever it was that connects those contacts.
If things are out of control it might be hard to know where to start. A HubSpot CRM Expert can help you identify those main indicators of which contacts should stay and which ones can go. There's always a bit of anxiety associated with hitting the 'delete' button on contacts that you've worked so hard to attract in the first place. Be assured that as you clean up your list more of your emails will go through and they'll go through to the right people which makes a bigger impact on conversions.
Additional resource: Why You Should Do a HubSpot Portal Audit & a Comprehensive Guide