If you're working out of two HubSpot portals and want to share your contacts, here are a few tips to help you make it happen. However, before we dive in, I want to caution that there is no great solution to keep your two portal CRMs perfectly synced at all times. Before you start finding hacks to make it happen please stop to consider your specific business case and assess if, maybe, you don't need to sync your portals after all or if you should probably be using ONE account to manage your contacts.
Manual Export & Import
This approach is a bit more manual and isn't ideal if you have a lot of contacts with a lot of updates. To export your contacts go to the Contacts area of HubSpot, select the ones you want to export, then hit the "Export" button. You can change your views beforehand to select the columns/properties you want to include, and make sure you have those properties created in the other portal so they're imported smoothly.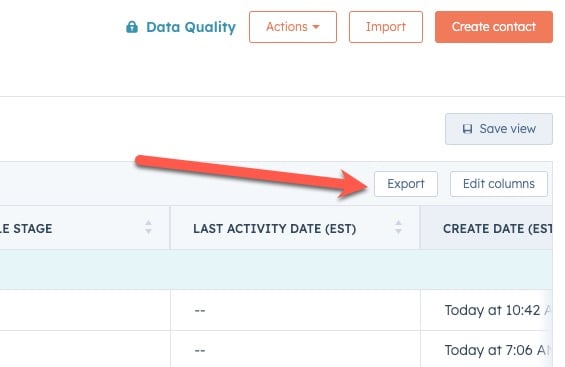 One Directional Sync With Operations Hub
HubSpot Operations Hub gives you loads of power tools for your HubSpot portal. One of these is the Contact Sync code that allows you to push contacts from your portal to another. When you use this code snippet, you can create a workflow that automatically syncs newly created contact from your central portal to another HubSpot portal. This is a one-way data sync that allows your main portal to remain untouched while the other gets the new contacts added to it.
Use a 3rd Party Tool
There are a few excellent 3rd party tools, like SmartSync Multi-Portal Sync, that will let you set up a series of syncs between different portals. These tools can be great and easy to use, but they can also come with their own limitations and extra fees. Before signing up for any tools be sure to book a call with their product experts to fully discuss your use case and identify any blockers that could be deal breakers for what you're trying to achieve with your HubSpot portal sync.
Use HubSpot Enterprise, or Business Units, to Manage all Contacts in One Portal
If you're managing multiple portals that are sharing contacts and resources, you may want to consider upgrading to HubSpot Enterprise.
Both Sales & Marketing Enterprise allow you to create Teams in your portal so you can segment and partition who has access to what, allowing you to give access to your database to users based on their team. For example, if you want your Canada team to only have access to the Canadian contacts and the US team to only access the American contacts, this is possible. With Marketing Pro you can leverage content partitioning so each team can only access the social media accounts, website pages, and other collateral assigned to their team.
One of the other benefits of Marketing Enterprise or CMS Enterprise is that it allows you to manage multiple domains and brands within your portal.
If you're paying for two different HubSpot Marketing Pro accounts for brands that share the same contacts, there may be a solid use case to shift to one portal and upgrade to Enterprise. Contact us to discuss your specific use case and to see if this makes sense to you.