How CRO:NYX Digital helped Calgary family law firm Richmond Tymchuk Family Law LLP create an online presence that's more approachable while increasing website traffic and qualified leads.
The Project
Richmond Tymchuk Family Law LLP is a Calgary, AB law firm that focuses on all family law matters, but primarily deals with contentious, high-profile divorces. Their social media feed was a slew of news clippings and court cases about lengthy, expensive divorces but they wanted to be more approachable.
They also knew that potential clients were turning to Google to ask their legal questions, and they wanted to show up in the search results for these searches. As a new firm established in 2019, their website and social media platforms were starting from scratch and needed a strategic approach to make an impact in a highly competitive space.
Our Approach
Empathy > Isolation
In an effort to bring some light and positivity to their brand we gave their social media profiles a makeover using humanity as our guide. We focused on sharing photos of family, connection, positivity and shared images of the RT Family Law team to build that human connection that's so important when choosing a family lawyer. The RT Family Law team isn't about fluff though, it was important that we continued to share impactful, helpful and relevant content that would help their followers make more informed decisions about their family law matters.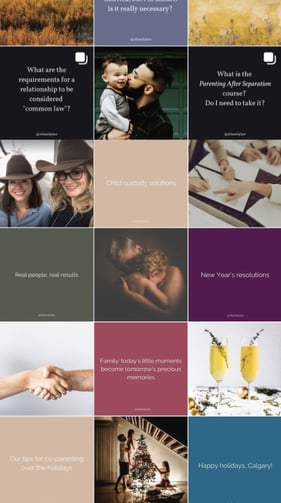 Compassionate and Optimized Content
While we continued to develop content around important divorce-related topics such as guardianship agreements and child support, we really leaned into focusing on the positive: doing what's right for you and your mental health, co-parenting with respect, and building a new, brighter future. Balancing legal guidance with practical advice helped to diversify our keyword rankings and provide helpful content for potential clients at all stages of their journey.

Results
Human Connection FTW
4.4x increase in contacts

generated via the website per month; from an average of 3.3 leads per month in H1 to 14.4 leads per month in H2.
Client-Led Content: Priceless
The shift in positive messaging allowed more clients to "own" their divorce and share their stories on social media. This user generated content is worth more than any of our marketing messaging.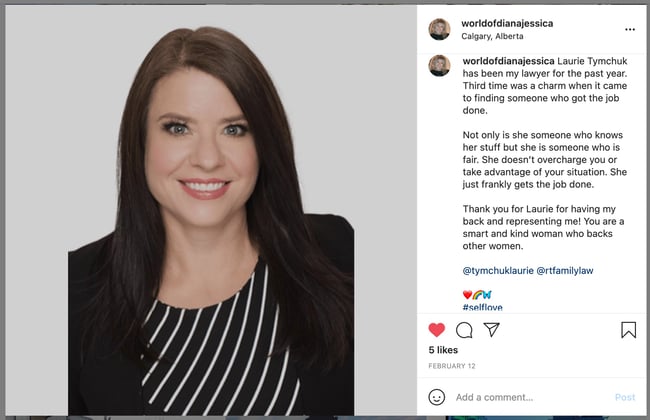 Happy Clients
It has been really essential to our firm to have a web marketing specialist who takes such initiative to grow our business, leaving us to focus our energies on what we do best. ~Laurie J. Tymchuk
More Resources for Lawyers
If you're looking to improve your law firms' online presence and drive more qualified leads, you may be interested in these helpful resources.