Marketing for law firms has become increasingly competitive. Keeping up with the competition can be difficult and expensive. You want to draw customers to your website and push them into the sales funnel (Inbound Marketing). Using the correct tools for your business is critical to get a jump over your competitors and using the right software to build your online presence and handle your contact management can have a large impact on this - and just as importantly - save you and your team time!
When it comes to Inbound Marketing for law firms, you will usually hear two names thrown around: HubSpot and WordPress. Both systems have their pros and cons, but we think the HubSpot Suite of tools best matches the needs of a growing law firm.
HubSpot is a purpose-built Inbound Marketing tool to help companies attract site visitors, covert leads and grow business. It is paid service, but includes many of the features you would need to pay separately with a 'free' CMS like WordPress. See a full list of of the different price points and the features they offer.
HubSpot Suite Features to Build and Streamline Your Law Firm:
Below are a few of the tools the HubSpot Suite offers to help you grow your law firm.
Analytics to Track Campaigns and ROI
It is critical to get real data of how your visitors behave when they are on your website, and also how they initially found you. It should be tracked constantly and not just at the end of a campaign when it may be too late to make adjustments. Using this type of information, you can create fully informed business strategies to gain more clients and grow.
With HubSpot, you can track every stage of the funnel and achieve a higher ROI. You can track exactly how your contacts became customers by looking at at which channel they are derived from, for example organic traffic, paid traffic or social media, which can steer the marketing funding strategy.



WordPress does include some reporting, but without an added paid or 3rd party analytics tool you will be left in the dark about your user behavior.
Social Media Management to Engage Your Audience
Almost all law firms have at least one social media profile. There are many that are not leveraging these audiences, and could be losing valuable business opportunities. It is important to be active and get meaningful branded content in front of these users.
Managing all your social media account posting can be tedious and time consuming, and you may not always have time to do it right. Having the ability to create and schedule your posts at once can save a lot of time and effort, and ensure that the schedule is kept to.
HubSpot supports scheduling for Facebook, LinkedIn, Instagram and Twitter and can save your law firm money and take stress off the marketing team.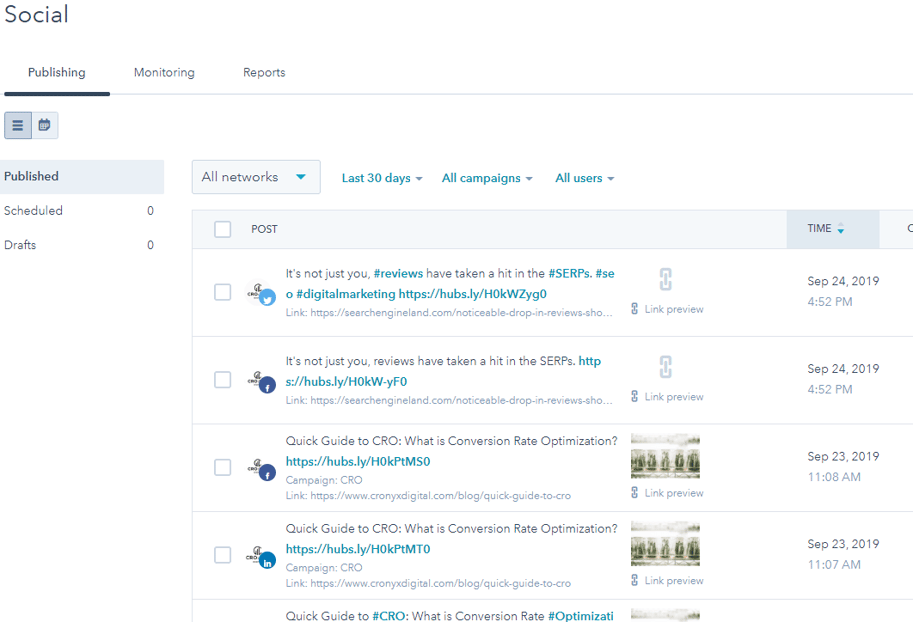 WordPress does not have any features to allow you to create a scheduling plan for your accounts. You would usually need to have a 3rd party application like HootSuite to manage this for you.
Meetings Tool to Save You Time
HubSpot has great meetings tool that can sync with you Google, Outlook or Office 365 calendars, so that your prospects can see the most up-to-date availability of your team. This can save a lot of back and forth with existing and potential clients. You can even embed calendars for your team right into your website, so that it is convenient for clients to book a meeting.
Search Engine Optimization (SEO) to Attract Leads
To attract visitors to your site, you'll need to create great content. This is where SEO comes in.
HubSpot has all the tools you need built right into the system and makes SEO manageable, even in-house. Some features that help with your website optimization include:
The ability to create and edit content including

URLs, META information etc.

Being able to track your competitors via Analytics Tools

See stats on page performance, traffic sources, and other useful information

Google Search Console Integration

WordPress requires additional plugins to achieve this, one of the most popular being Yoast.
Law firms are in an incredibly competitive space, and it is important that your potential customers find you before your competitors.
HubSpot's Free CRM to Manage Your Contacts
It is very important to keep track of your visitors, leads and customers, and it is easy to forget potential new clients, as well as the path a customer took to conversion. The best way to do this is through a CRM. There are many CRM systems out there, for example SalesForce, but having all your systems linked and in the same place is beneficial. If you already have SalesForce and want to continue using it, HubSpot has a built-in connector to easily sync between the two systems as well as many others, or you could use a Zapier connection.
HubSpot has an easy learning curve for those law firms that have not used a CRM before.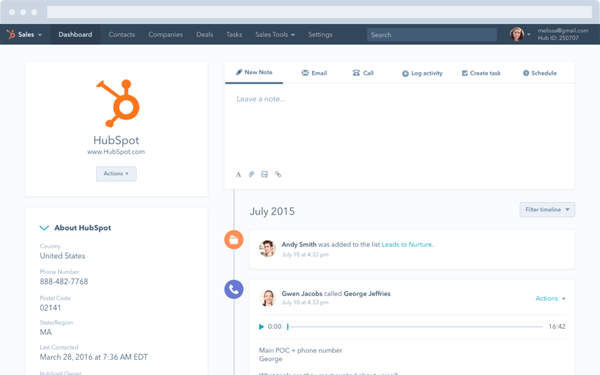 Image: Hubspot.com

On each contact/lead record you can see information about how they found your website (perhaps a certain keyword in a search engine), or they contacted you via a landing page, filled out a form to get a fee eBook, a contact form, which pages they viewed etc.
You can also track email statistics, whether or not they were opened, links clicked on, or even received at all. Without question, this can help your team keep on top of the current and potential client relations.
WordPress does not come with a CRM, so you would need to subscribe to a different service which may be able to connect to your website, or use an API to connect to HubSpot CRM.
Automated Email Marketing
Email can be an important tool for law firms to communicate with potential leads and turn them into customers, or keep the firm in the minds of existing clients in order to get consistent work.
With HubSpots Workflow functionality, lawyers can customize how and when leads receive communications, and it can be fully automated. Be it complex or simple workflows, HubSpot can handle most scenarios. It can even be set up to alert staff when key visitors go to the site. It also has built-in mass email functionality, so no need for extra expense. As the CRM uses the shared database, any leads from chat, form submissions, CTAs or anywhere else can be segmented and used by email workflows.
WordPress can send emails, but does not have any automation solutions. You may need to subscribe to a services like MailChimp and SendGrid to manage workflows and achieve better email deliverability.
HubSpot CMS To Build Your Website
HubSpot CMS has all the main features of WordPress for building your website, but also includes a free and fully integrated Customer Relationship Management (CRM) system with tools to help you organize, track and nurture leads from when they first visit your website until they become customer. All data is tracked and stored in HubSpot, and reports can be run to see the effectiveness of each campaign.
HubSpot was built for marketers in mind, and has all the features in the box to get the most out of it. It allows you to easily write content, optimize it for search engines, and publish it all from one place, whilst being AMP ready and looking good across devices. It is incredibly easy to add Call-To-Action items and forms directly into your content, schedule publishing and get your analytics all within the same area, as well as a host of other features to help law firms focus on what they are good at - practicing law!
A few of the core features HubSpot CMS includes to build your website are:
Blog Pages - your blog can be the heart of your website, and using it effectively can make your law firm the perceived expert in the field. It can help you attract the right kind of visitors to your site and get them into your sales funnel. If you are not updating your content regularly, and keeping your visitors up to date with the latest trends in the law industry, your website will become stale and you will not look like a serious player.
Landing Pages - these are standalone pages for marketing purposes and are extremely focused on getting a visitor into the sales funnel with the least distractions. An example would be if a law firm is running a targeted ad about personal injury, that landing page would have targeted content about this service being offered, and usually a prominent contact form or free eBook download offer and little to no navigation to distract the visitor.
The submissions you get are already completely integrated into the HubSpot CRM and all the source data can be tracked. With Marketing Hub Pro and up you can also do A/B testing on the pages to make sure you are getting the most out of each page. You do not even need to bother your designer or developer to create these!
Website Pages - Your website can be your best selling tool and having great optimized, relevant content is key. HubSpot includes an easy drag and drop system to customize pages easily, and page optimization tools. As the HubSpot CMS is fully integrated into the HubSpot CRM, you can track all engagements and get valuable statistics about your visitors.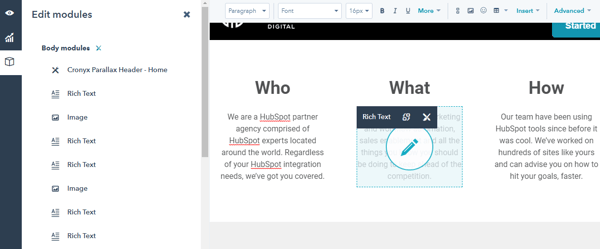 Smart Content - HubSpot allows you to display different content to different users based on certain criteria (for example country, device type, referral source, language, contact list membership and lifecycle stage). This could be very beneficial for a law firm, as they could use one of these criteria to further show relevant content to the certain users only, increasing the chance of conversion.
Chatbots - These can save your team a lot of time by getting rid of inquiries about common questions from visitors. For example a chatbot can be configured to answer define terminologies or give information about services offered.
Live Chat - If you want to engage in real time with potential leads and customers, this is possible with the HubSpot Live Chat feature. All communications are saved into HubSpot and added to the contact's timeline in HubSpot CRM.
Security For Peace Of Mind
Security can and should be a huge concern, especially for industries like law firms. Hackers are out there actively trying to steal data, and no-one should be complacent.
The below features are offered by HubSpot:
Firewall / VPN
Intrusion Detection System (IDS)
Web Application Firewall (WAF)
Distributed Denial of Service (DDoS) Mitigation
Pro-active scanning and network testing
Secure Sockets Layer (SSL) Protection
HubSpot websites are hosted on Amazon as well as Google Web Servers, which are very secure and reliable. As a SaaS, HubSpot platform is not nearly as vulnerable as other CMS platforms. Their software is monitored and kept current and up to date for any security threats. Some more details are listed here.


WordPress offers few security features out of the box, and needs to be updated by a development team on a regular basis to ensure the site stays secure. Every 3rd party plugin increases the potential to be hacked, and they also need to be updated constantly. There is also the risk that plugin developers abandon a project, and you will unknowingly be hosting a vulnerable piece of software. Themes will also need to be kept current.
HubSpot has the tools and functions to help your law firm achieve its goals.
Do you need help moving your law firm over to HubSpot? Contact us and we will get the ball rolling!