Running a small business is a lot of work. Your legal training helped you specialize in a career and help others navigate the legal system - but you didn't necessarily pick up all the skills and training needed to run a business. Now, here you are, doing the best you can to be a great lawyer, a great boss and turn a decent profit so you can pay your team and yourself.
You can do anything you want but you can't do everything you want.
If you want to grow, you need to focus on what you do best and hand over those time-sucking social media posts to a marketing agency for law firms that focuses on this specifically.
We work with several small-sized law firms and have found three common elements that are helping them attract, convert and service their clients in a way that leaves them profitable and lean, so they can do the work that they love to do.
SEO for Law Firms: Identify Your Niche
Hiring a general lawyer is a lot like seeing a general practitioner; it's OK if you just need a basic check-up but if you have something specific you want addressed, you should see a specialist.
People look for a lawyer in two ways:
They ask people they know for referrals, and/or
They ask Google.
In both situations, when they are searching and asking around they will still do a lot of research that includes visiting websites, checking out social media profiles, and checking out other online reviews.
Improving Your Law Firm's Visibility
Check your reputation
Optimize for locality
Identify your core service offerings
Work with a professional ad manager
Check your reputation.
Go Google yourself right now. What comes up? Is it a nice listing of your firm's office with your hours, contact info and a map for directions? Do you have several listings for your name in different websites that speak highly of you? Are your reviews generally positive?
When potential clients are doing their research, they'll be searching for you and these are the things they are going to see. Make sure you're giving them a good first impression.
Optimize for locality.
For the majority of lawyers, your potential clients are searching for lawyers in their area. Make sure you've addressed this on your website so that you're ranking well for localized keyword searches (i.e., "bankruptcy lawyers Detroit").
Side note: If you're not coming up for your name or locality, there may be other issues at play. Conducting an SEO Audit can help to identify and address those ranking issues.
Identify your core service offering.
For a small law firm to be really successful you're going to want to niche. While it sounds scary and limiting to narrow your potential income by having a niched focus, you'll end up capturing more of that small market because people want to come to you, the expert, for their issues. Be very clear in your messaging on your website, in your ads, and on your social profiles about who you are and what you do.
Example: We are a family law firm in Anaheim, CA that specializes in international custody disputes.
The added benefit of this is that when media and other websites are looking for a subject matter expert to quote, they'll find YOU. Getting included in articles and getting more links back to your site will help you even more to gain better search engine rankings and increase your visibility.
Work with a professional ad manager.
Bidding on legal keyword in Google Ads gets very expensive very fast. It took me exactly one Google search to find some ads that are likely bleeding their media spend. My search is for "oil and gas lawyer Houston" and each of these three ads are for personal injury lawyers. The great thing about identifying your niche is that you can very easily start to exclude (and not spend money on) other areas that you do not specialize in.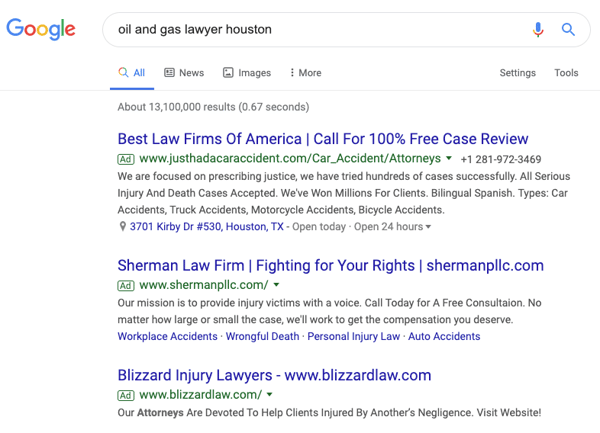 Client Management: Centralize & Record
When you've identified your niche, optimized for locality and have some nice reviews, business listings and social media profiles, you'll hopefully have lots of work coming in. For some firms, this leads to the 'good problem' of too many leads to keep up with. Let me be absolutely clear that this is NOT a 'good' problem. This is a 'real' problem. If your resources are stretched you might frustrate people who want to get a hold of you but can't, who are getting unacceptable (to them) turn-around times, and managing these leads can take you away from servicing your current clients.
All of these little delays and drops can lead to a build up of frustration and cause bad reviews, lost business and can tarnish your reputation.
Use a CRM to manage your contacts, record your interactions, and track your leads.
Using a CRM like HubSpot (which is free) can keep all your important contacts in one place and allow anyone in your organization to see what they need to (you can set access levels and permissions so they don't see any sensitive or confidential information). This allows people other than you to answer questions like "when is my next meeting?", "did you send that document?", or "how much did you quote for that"?
If you are also using meeting booking tools you can let people easily book a time that is available in your calendar without the endless back-and-forth to find availability.
Reduce Admin: Automate Processes
Admin work, follow ups, meeting bookings and documentation take up too much time and it's frustrating to hire someone just to be a paper pusher. We've seen our clients greatly improve their internal process by automating these things:
Using prequalifying questions in their contact forms
Sending automated kickback emails to either book a meeting (qualified leads) or to provide additional resources (if they are not qualified leads)
Setting up workflows to queue 'next step' emails
Using a sales pipeline with their CRM to keep track of leads
We love working with our legal clients for lead generation and sales enablement because our legal clients really get it. They understand the value of time and want to make sure they make the most of theirs.
If you want to make the most of your time, contact us.