The CRO in CRO:NYX stands for Conversion Rate Optimization. It's the core of what we do and knowing more about it can help you better identify your goals, track them and make the changes needed to achieve them.
Generally speaking, when it comes to digital marketing you need to attract visitors to your site through SEO, paid ads, social media, or building a good network of referrals from other sites. Then you need to convert those visitors into leads, which can be greatly influenced by your website content, calls-to-action, social proof and other website trust factors.
Define Your KPIs: What Counts as a Conversion?
A conversion is any action that you want a visitor to take on your site. If you're an ecommerce site it's probably completing a purchase. If you're a services site, it's probably filling out a form to generate a new lead.
Actions that are often tracked as conversions:
completed purchase transactions
form submissions
click to call
event registration
But that's not all. You can also track 'micro conversions' / 'soft conversions' / 'secondary conversions' which measure actions taken that show expressed interest, even if a person doesn't complete that end conversion goal that you have in mind. These are good to measure as some visitors will complete their conversion transaction offline.
Actions that are often tracked as secondary/soft conversions:
print page previews (for key spec sheets)
pageviews/sessions per visitor thresholds (i.e., viewed >10 pages)
viewed directions
shared on social
How to Calculate Your Website Conversion Rate
To calculate your conversion rate, divide the number of conversions by the number of website visitors.
10 conversions / 1000 website visitors = 0.01, or 1%.
Website Sessions vs Users
That conversion rate formula is accurate most of the time, but it has some nuances that you'll want to consider for your own business.
Sessions vs Visitors
If someone comes to your website twice, they count as one visitor (or 'User' in Google Analytics) and two sessions. For most websites, people will come back a few times while they're doing their research and considering their purchase/service provider options. In these cases you'll want to use Visitors/Users as your denominator when calculating conversion rate.
If you have a website where each session has the potential to have a conversion, such as if you're a pizza parlour and people tend to order a pizza online each time they come to the site, you'll want to use sessions as your denominator to calculate conversion rate.
Counting Multiple Conversions by One User
Let's say your business is a law firm. One visitor in particular has filled out your contact form twice to ask you questions. Tracking this as two conversions can skew your data and make it look like you're generating more leads than you really are. For businesses like this you'll want to make sure your analytics tracking is set up so it's not counting repeated conversions.
But if you're the pizza parlour, it makes sense to track repeated conversion actions. Multiple pizza orders absolutely count as multiple conversions.
What's a "Good" Conversion Rate?
This really varies by industry and by how you're tracking conversions. Look at the law firm vs the pizza parlour; the law firm could expect that about 2-8% of their visitors will convert to leads (depending on their region, vertical, source, etc.) but the pizza parlour could realistically be about 50% of people converting. More important than determining where you stand in relation to others, focus on how you can improve the conversion rate that you have.
How to Improve Your Conversion Rate (Conversion Rate Optimization)
1. Start with the basics
There are so many things that will help you improve your website conversion rates. Making sure that the conversion path is clear and that people can easily see what to do next is important. So is instilling confidence in them - a fast loading site, no errors, and some social proof take a site from looking shady to trustworthy and will help conversions (related reading: Building Trust with Website Design).
CRO basics and quick wins:
Ensure your SSL certificate is up to date and you have no security warnings for any of your pages or content.
Improve your page speed
Allow guest checkout / remove steps in the checkout process
Remove unnecessary form fields
Leverage CTA buttons
Less test, more visual cues
Easy navigation
Mobile friendly/responsive
Add reviews/testimonials
2. TEST!
Start with a hypothesis
Don't just change things because you have a 'hunch'. Take that hunch and make a SMART goal out of it. Your SMART goal should be: Specific, Measurable, Achievable, Relevant, and Time-Bound.
Hypothesis: Removing the required fax number field from our forms will increase form completion rate.
This goal is a SMART goal because it is:
Specific: You have identified what you want to achieve (increased form completion rate) and how you are going to do it (removing the required fax field).
Measurable: You can measure the difference in form submission rates with your analytics data.
Achievable: This is an easy test that can be conducted in-house by the existing team. There are no barriers to conducting this test or measuring the results.
Relevant: The desired goal of increased form submissions is relevant to business objectives of generating leads from the site.
Time-Bound: Depending on the amount of traffic to the site will determine how long you need to run this test to see the impact. A target date should always be set so you remember to stop and review your data to determine if your hypothesis was correct.
There are SO many things you can test. The only limits are your resources and abilities to execute the tests. If possible, run your tests one at a time (so they don't conflict with each other) and keep them short (providing you have enough data to make a conclusion). Here are some suggestions:
Headlines
Calls-to-action
Colors
Buttons
Design & template elements
Font size
Images
Video locations & thumbnails
URGENCY!
Testimonials & reviews
Social proof
Personalization
and more!
Example: Headings
What happens when you switch out your heading, change your tone, your call to action, or explain what you do a little differently?
vs.

Example: Personalized Images
Netflix has done a great job with personalization testing and optimization. You may have noticed that the images change sometimes... it's 100% intentional. Depending on your viewing habits - if you're a comedy person, horror junkie, or into rom coms, you're going to get a picture that aligns with your interests.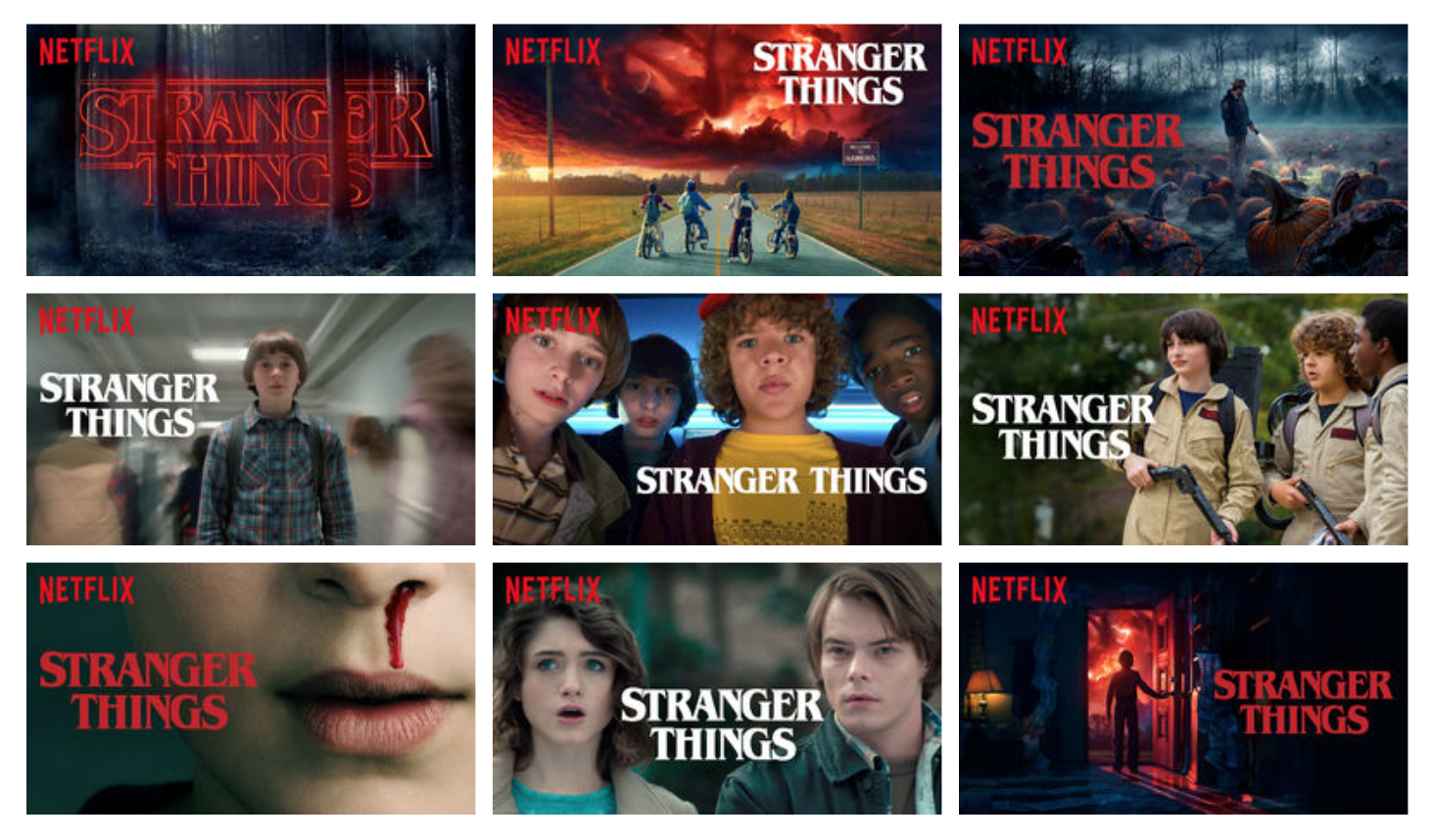 Nothing is off limits! As long as you're measuring and updating the site based on the data, you're good to go.
3. Document and share your findings
Write up a summary of your findings and share them with the team. Sometimes you'll be surprised with the results. Knowing what is being tested and what is working (or not) can help you and your team make better informed decisions moving forward.
Start now!
Running tests and digging into analytics can take a lot of time and isn't everyone's favorite thing to do, but we love it! If you're ready to take your site to the next level and get more ROI out of your current traffic, contact us.