"Oh, sorry I didn't pay that invoice. I never received it."
Chasing clients for invoice payments is uncomfortable. No one wants to be a nag about outstanding invoices, but we all need to get paid to continue to operate. When a client tells you that they haven't paid because they didn't receive their invoice you're likely thinking a combination of the following:
My email must be getting blocked by their server
Did I (or my team) forget to send it?
Maybe it went to their junk folder
LIAR!
Almost as bad as not getting paid is having to trouble shoot email delivery or calling someone out for being untruthful.
You can avoid these most of the time! The key is with email tracking.
Email Tracking for Sales & Marketing Activities
Email tracking has been a tool generally used by sales and marketing departments so that they can measure when a contact or lead is opening and engaging with their email messaging. It's a great indicator of if you're sending quality content or if a potential lead might be ready to buy. Knowing if/when your leads are reviewing your proposals can help you strike while the iron is hot and close a sale.

Email Tracking for Accounts Receivable
Those same tools are invaluable for your accounts receivable and finance department. Knowing that a contact has received and viewed your invoice can help you nudge them for payment if it looks like they've just forgotten about it (opened it once a while ago and didn't pay), if they seem to be avoiding payment (opened it several times and didn't pay), or if they legitimately didn't receive or open your email. Armed with this knowledge you can shift how you approach your discussion for outstanding invoices.
Email Tracking with HubSpot
You can easily track email opens - FOR FREE - with HubSpot. Connect HubSpot Sales with your Gmail, Outlook or Office 365 account and you can chose which emails you want to track right from your preferred email tool.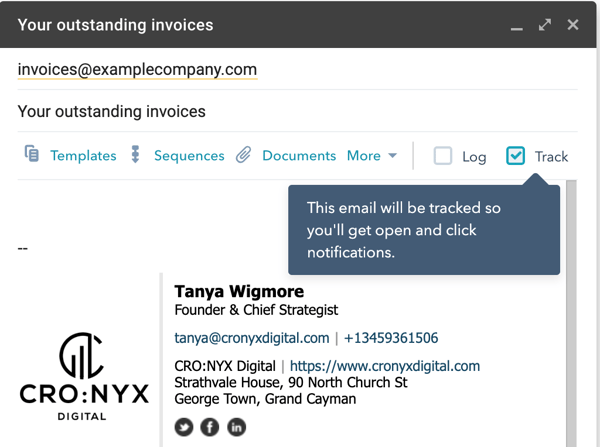 Get Started!
If you'd like to track emails, integrate it with your CRM or just learn more about how HubSpot can help you and your team improve your internal processes, contact us today.