Grappling with a large ecommerce site can be enough work without throwing the challenge of SEO into the mix. That's why we're put together a guide to help you manage your keyword research strategy for large ecommerce websites.
For this piece, we'll be using a fictional business called Walter's Workwear as an example as we discuss each step of the process.
Conduct Keyword Research
Know your current keywords
Understanding the keywords you rank for currently is an ideal starting place. You might already have a tonne of "low-hanging fruit" keyword opportunities which you didn't know about.
There are a few different ways to get this data, and we recommend trying both of these options to get a good coverage of information.
Google Search Console:
Login to the performance report section and change the time period to 16 months. Export that information and you'll get a spreadsheet called "queries" which is the keyword information you're looking for.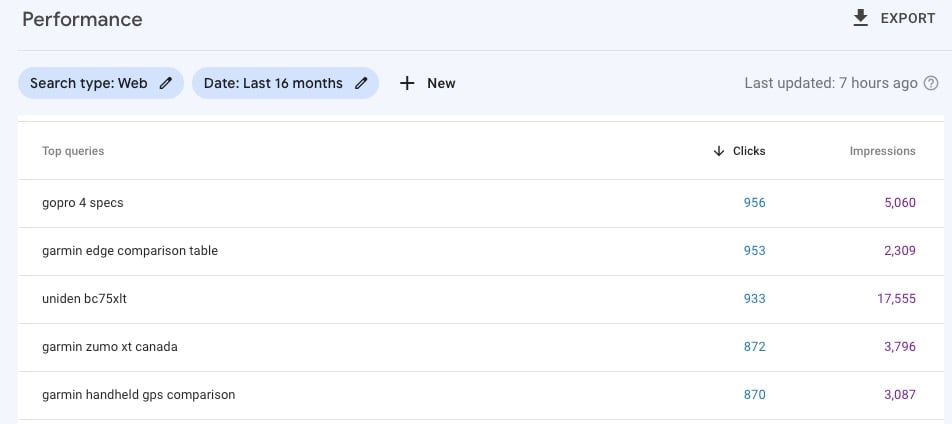 This spreadsheet shows you information about the number of clicks, impressions, CTR and position. For now we aren't worrying about these metrics, we just want to take all that rich data and put it into a spreadsheet.
We recommend using Excel or Google Sheets, and having a tab that is your keyword dumping ground. Putting all your keywords into one place at this stage will help you weed out those nuggets of gold you're looking for. At this stage, you don't want to be excluding any keywords, so keep track of all of them.
SEMrush:
SEMrush is a really useful tool worth subscribing to for keyword research.
Using the Domain Overview report, you can get insight into the keywords your website is ranking for. To get this information in an exportable format, go into "top organic keywords" and export the report. Put the keywords into the same spreadsheet as your Google Search Console keywords. Yes, there'll be duplication but we will deal with that down the line.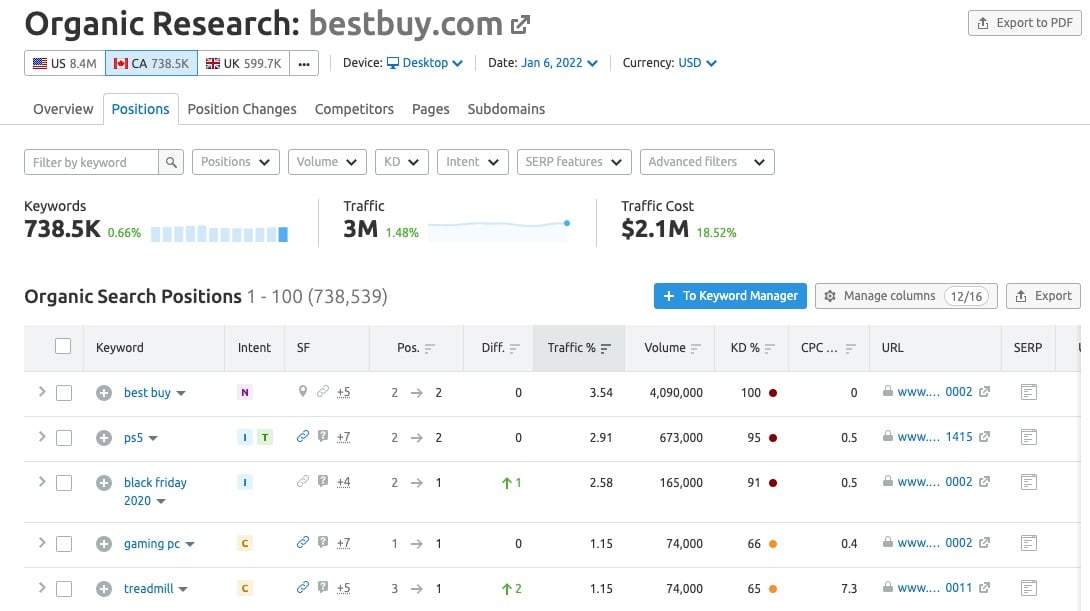 Categorize those Keywords
By Intent
SEMrush launched a new feature recently which makes this task easier. By uploading a list of your keywords (100 at a time) into the Keyword Overview tool (click the bulk analysis tab), you can get an idea of how those terms are categorized.
Looking at the intent column, you'll see a range of letters.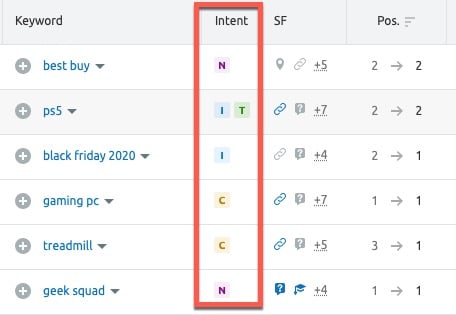 Informational: The user wants to find an answer to a specific question.
Navigational: ​​The user wants to find a specific page or site.
Commercial: The user wants to investigate brands or services.
Transactional: The user wants to complete an action (conversion).

Some keywords might have two letters beside their name, because they could be categorized in more than one way in terms of intent. You might also find that you don't agree with some of the intent categories, and that's fine - SEMrush is an automated tool, so always rely on your human brain to make the final decision.
Aside: These classifications align with the conversion funnel and it can be really helpful to map these to your buyer's journey to identify keyword gaps in your funnel.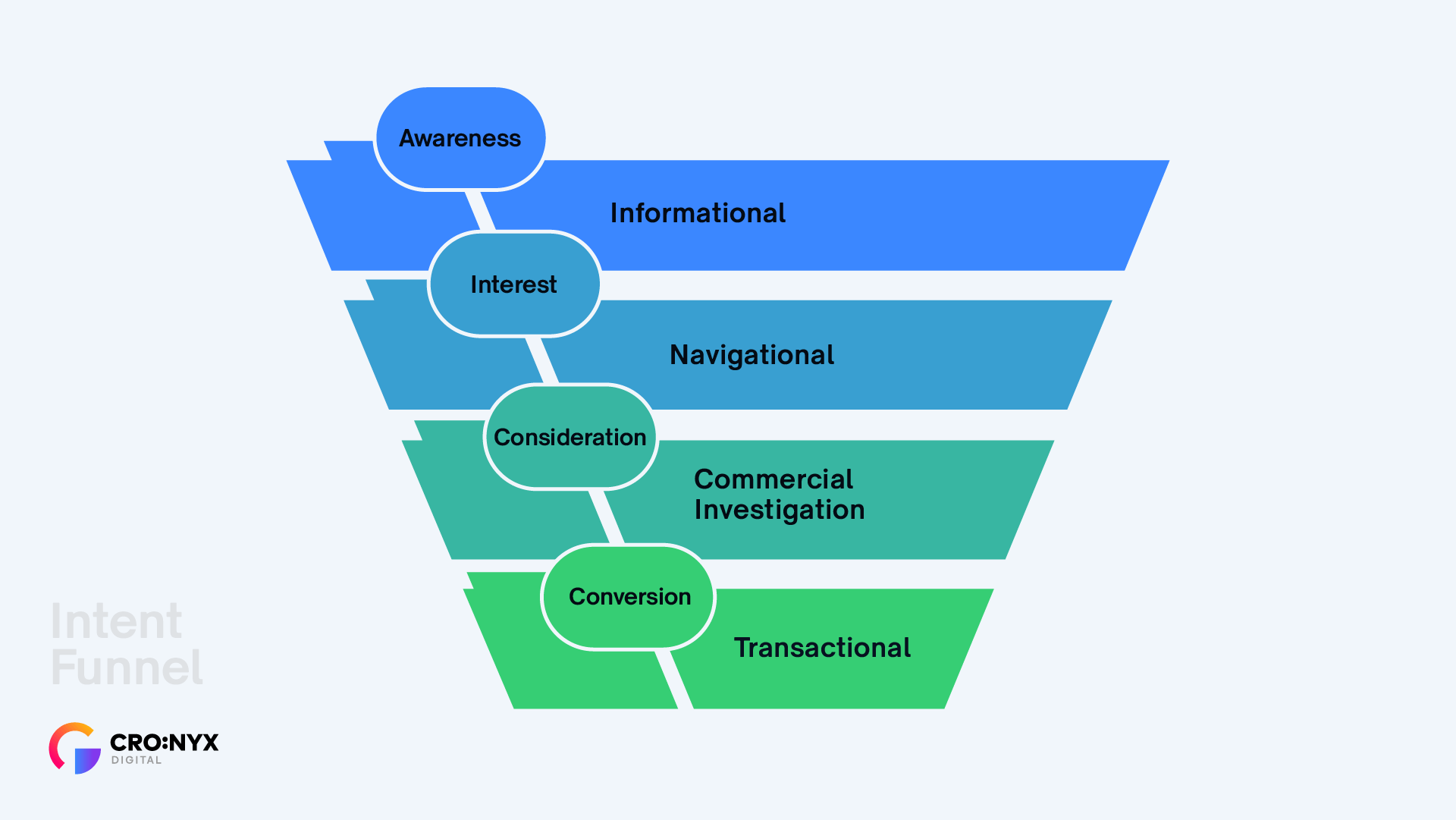 Walter's Workwear example

The website is already ranking well for certain keywords but after carrying out this initial assessment of their keywords, they can see that the majority of keywords fall into the informational category. This suggests that keyword research into more transactional terms is required to try to appear in front of customers who are ready to buy.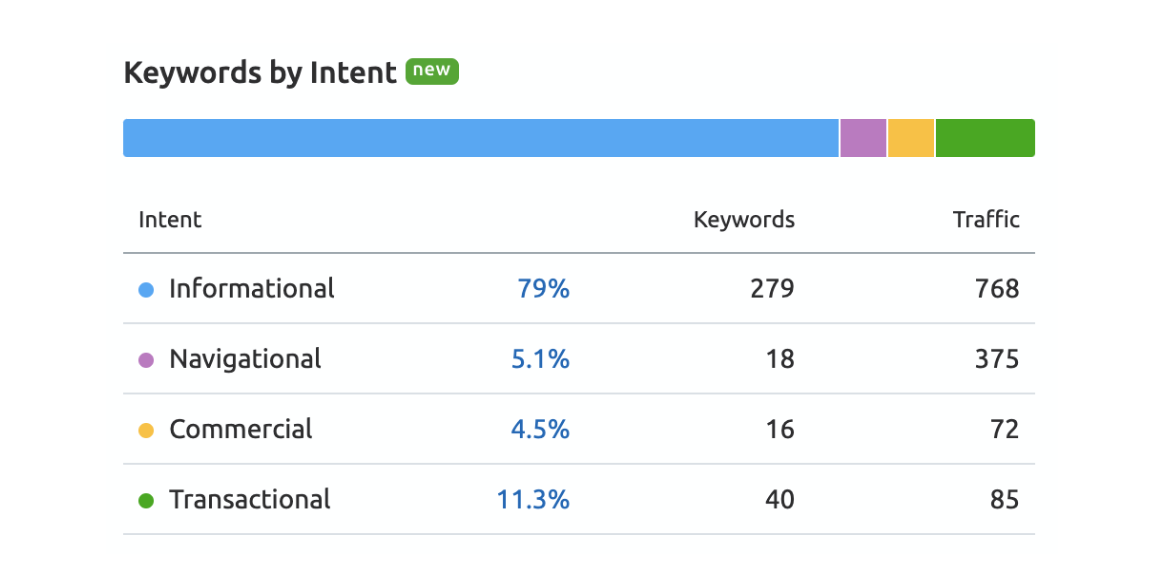 By Landing Page
Another way we like to categorize the keywords we already rank for is by landing page. This gives us an idea of how well we are performing at different levels of the website.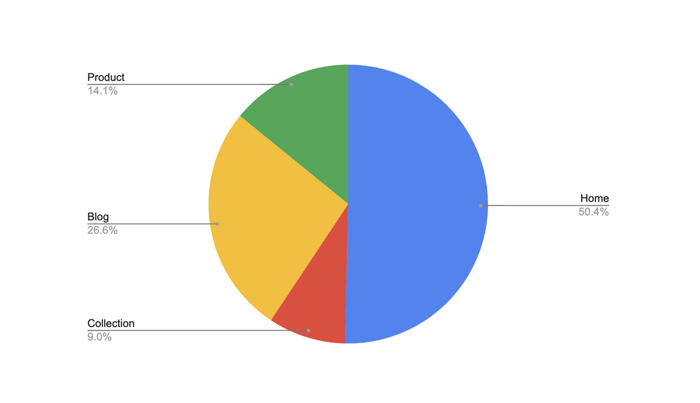 For example, the split of traffic by landing page in the graph above suggests that the collections pages might be under-optimized.
Competitors
Check your competitors keywords
Being able to see what keywords your competitors rank for feels like cheating, but it really isn't. SEMrush provides information about any website on the internet in their Domain Overview report.
Look at one of your key competitors and see what organic keywords they rank for, then compare it with your list of keywords. Are they outranking you, or ranking for keywords that you don't?
A simple way of doing this comparison is within the Domain Overview report, and using the Compare Domains tab. This lets you compare your website with 4 other websites to see where there is overlap and where your opportunity lies.
Take your competitor research up a notch by looking at competitors for specific categories of products. For example, your store might sell hats, trousers and sneakers. You might identify your top competitors for each of those product categories which will help you keep your keyword research focused.
Not sure how to know who is a competitor? Consider what keywords you want to rank for, and try Googling it. Who appears on page 1? Make a note of each website in your overall SEO spreadsheet and then start to evaluate them.
Taking on Amazon might not be achievable at this stage, but you might find another local or national ecommerce site who you can overtake.
SEMrush can also help you uncover competitors you didn't know about. In the Domain Overview report you'll see your Main Organic Competitors. This list of competitors might uncover websites you didn't expect.
Competitor research itself can become a never-ending task. That's why we recommend just focusing on 3 competitors to start with.
We hope this guide has provided a helpful start to your keyword research. Part 2 will be shared soon, so follow us on LinkedIn so you're the first to know when it goes live.