Adding a subdomain to your main domain in HubSpot is very easy, as long as you have all the permissions that you need in HubSpot and with your domain registrar.
HubSpot Domain Management Settings
You'll find your website domain settings under Settings > Website > Domains & URLs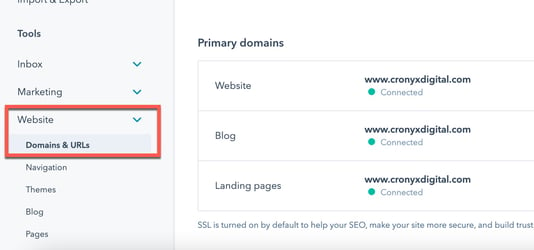 Once you're there you'll want to select the orange button that says "Connect a Domain". Even though the main domain that you're going to be using is already in your account, you still need to do this to set up the subdomain.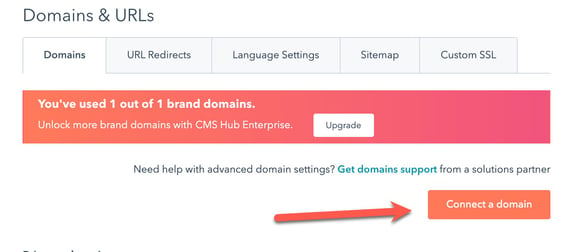 This button will open a pop-up asking you which type of domain you want to connect. You'll want to select a "Secondary Domain".
HubSpot will then ask you what type of content you plan on using this subdomain for: website pages, landing pages, blog posts or email. The answer to this is really going to depend on your business use case.
Subdomains vs Folders: An SEO Perspective
If you haven't really thought about if you should be using a subdomain or if you should be using a folder, take a minute to do so now.
Subdomains are technically different domains.
If you want this content to help contribute to the main ranking keywords and themes of your existing site, you might want to consider using a subfolder. Using a subfolder lets the search engines know that this content is all part of the same domain and should be treated as such.
Back in the day, you mostly saw blogs hosted on subdomains such as https://blog.domain.com but after a lot of testing and heated SEO debates, it was proven that having that content in a folder structure such as https://www.domain.com/blog/ had more SEO value. Since then, most important content has been moved to the folder structure.
Subdomains are great for micro-site content, gated or members-only content, and other content that you still want to manage on the one domain but that you don't really want/need to be part of the main site.
Select Your Content Type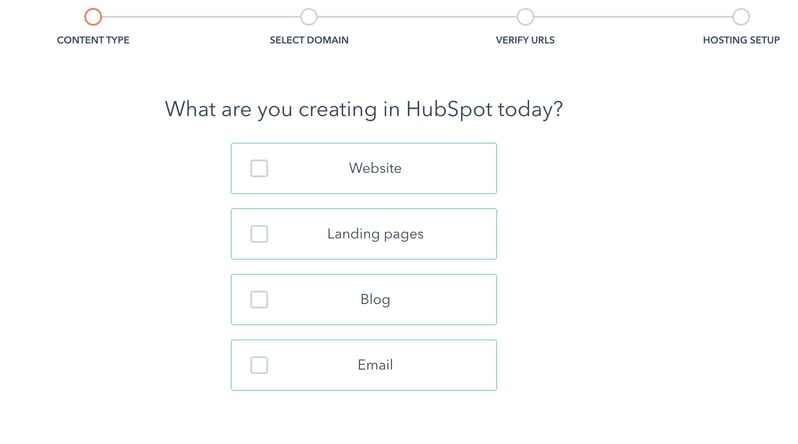 After you pick your content type and hit 'Next', you'll have to pick the main domain that you're going to use.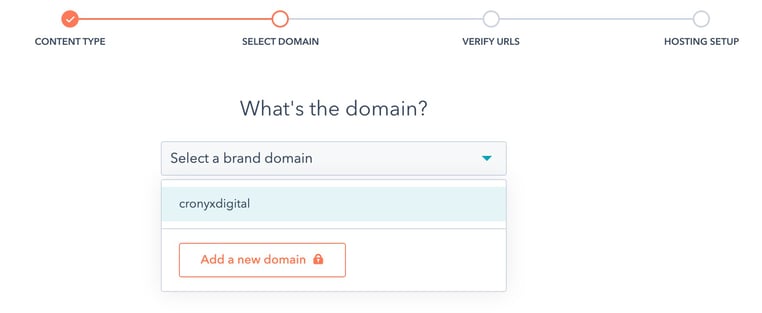 How many root domains can I add to HubSpot CMS?
If you have HubSpot CMS Enterprise you can have up to 10 root domains. For HubSpot CMS Starter and Pro, you'll have only one. Additional root domains are available for purchase in HubSpot CMS Enterprise if you need to have 11+ domains running in the same HubSpot portal.
Specify Your Subdomain
What's your subdomain going to be? Add that in on the next screen. As always, keep it concise and don't use any special characters.

Add the New Domain to Your Domain Host
HubSpot's domain hosting tool is refreshingly easy to use. It gives you step-by-step instructions that are easy to follow and allows you to 'check' each step before you proceed.
You'll be updating the CNAME records for your domain. For most domain hosts you'll find that under your DNS Settings in the account.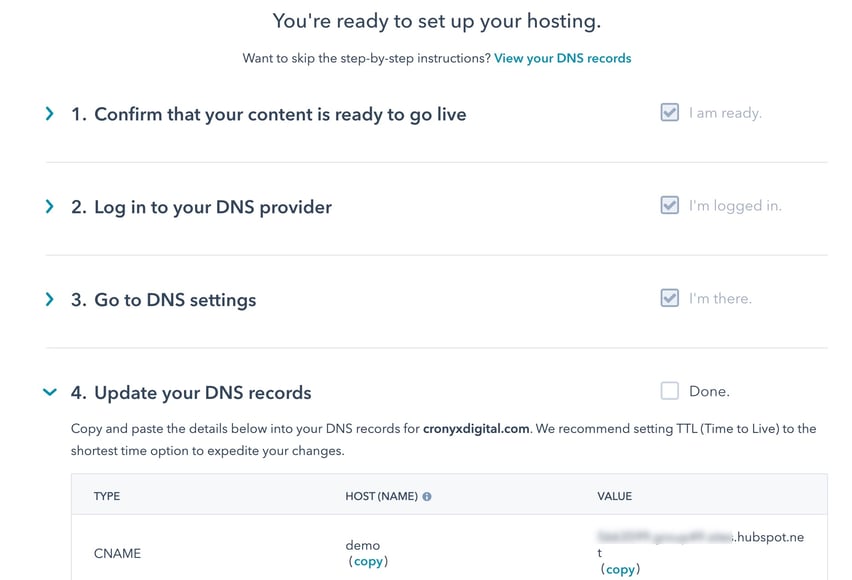 If you're using Cloudflare for your domains, you'll want to add the CNAME to Cloudflare and not to your main domain registrar or host. An important step of the process that's missed in a lot of the documentation is that you'll want to turn the proxy status to DNS only. If you're setting up a domain or subdomain for HubSpot CMS via Cloudflare and it doesn't seem to be working, this is almost always the culprit.

Verify the Subdomain Setup
Last step is to click verify and wait a moment 🤞
The domain verification process is usually fairly quick. If you're not seeing the sub-domain verify in 5 minutes there's a good chance it's not set up correctly. Review each step to ensure you didn't miss anything and try again!
HubSpot CMS Support
Need some HubSpot CMS consulting and support? Reach out! We have years of HubSpot CMS experience and can help you tackle almost any HubSpot CMS need.