HubSpot CRM is great for many things and it's very easy to mass update contact properties with an import - except for when the property you want to update is a contact's email address.
Multiple CRM Scenario
Your company has another CRM that houses important contact data and is intentionally not synched with HubSpot (its health data, financial data, etc.). That database is getting updated regularly with new contacts and revised contact data, including new customer email addresses. You've been able to export a list of contacts that have had an email address update in the last month and now you need to update those contacts in HubSpot.
You Need a Unique Identifier
If you have another contact property that is unique to every contact in your database, you can use that as the unique identifier and use that import to overwrite the old email address with the new one.
If you do not have a unique identifier, you'll need to have the old email address included in your export.
Importing a Secondary or Alternate Email Address
If you have the old email address in your export, you can import the updated email address as a new property. Let's call it "Updated Email Address".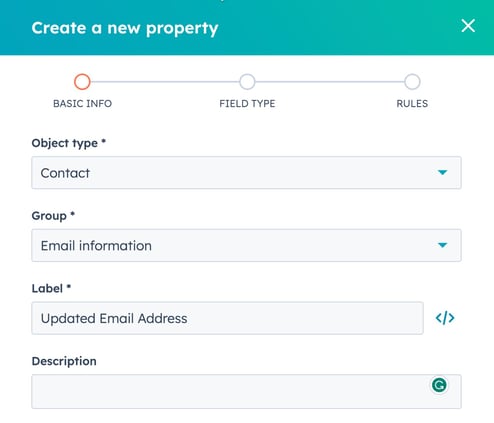 Now, on your contact export from the main CRM, you'll want to rename the columns so the old email is called "email" and the new email address is "updated email address". When you import this sheet the old email on the import will match the contact email address in HubSpot and will add the updated email address property to their contact record.
Use a Workflow to Overwrite the Main Email
Now pop over into workflows and create a workflow.
Enrollment trigger: Anyone who was on the import you just did
Action: Copy contact property "alternate email address" to replace "email"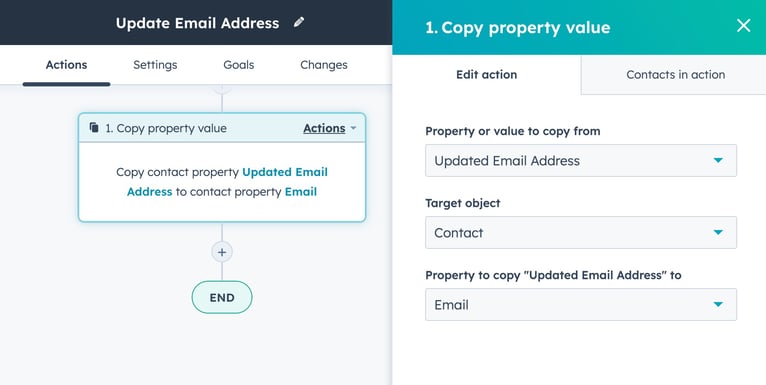 Spot-check some of your contacts to ensure that it worked as it should have and if you have any errors (such as the updated email address already belonging to a contact in your HubSpot CRM), you can address those individually.
Clear the Updated Email Address
Find your import list and clear the "updated email address" property for each of the contacts. As this value should now match their main email address, it's duplicated and not necessary. Keeping this value clean will also be helpful in the future if you are running working workflows that use this field and you don't want the contacts from this import to be included.
All done! You'll likely still have a bit of manual cleanup and data merging but the import and workflow will greatly reduce that amount, especially when you're working with a large data set.
Note: HubSpot workflows are a feature of HubSpot Marketing Pro & Enterprise.