We are excited to announce that CaymanEnterpriseCity.com has been awarded the 2021 HubSpot Impact Awards Website Design award!

As Cayman Enterprise City grew from start-up to scale-up they matured and refined their service offerings and sales messaging. Their website, however, remained stuck in the past with outdated messaging and imagery, content was unorganized and patched together, and you could tell that the website had been worked on by many different stakeholders with different opinions and goals. It was time for their site to show the level of maturity that their business had achieved.
The Challenge: Building a Future-Proof Site
We wanted to ensure that Cayman Enterprise City (CEC) had a website that will further advance and establish CEC's brand globally by establishing credibility, clearly conveying CEC's offerings, showcasing their vibrant community of innovative entrepreneurs, and reflecting their significance as a hub for global business. The challenge was to build a future-proof website that can be easily managed and updated by an internal marketing team of two.
Cayman Enterprise City's website in 2019, our starting point.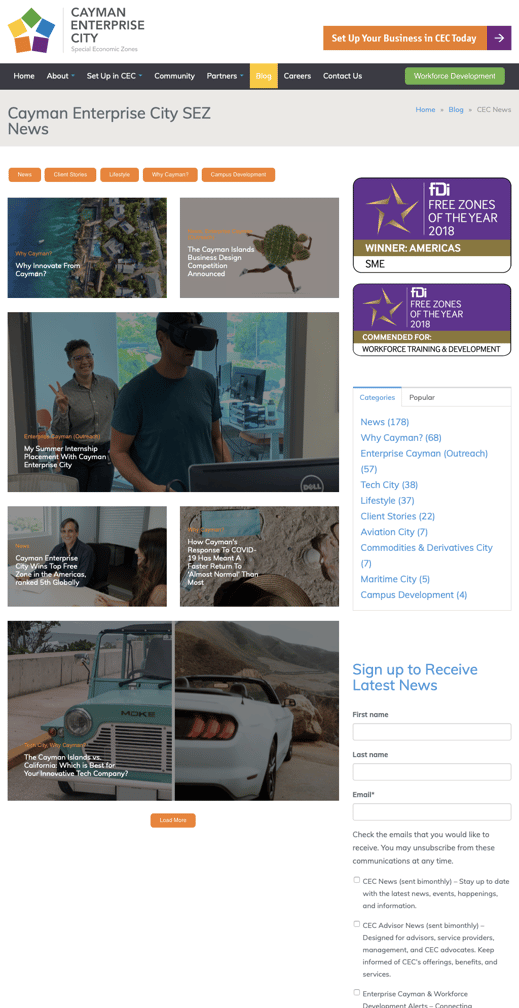 We recognized that the current website was clunky. It didn't reflect CEC's "vibrant community", the copy was unorganized, repetitive, and off-putting at times, and years of development and editing created a maze of pages. It was difficult to work with, hard to use, it wasn't truly mobile friendly, and didn't do a great job at representing CEC's brand.
"We held a series of team brainstorming sessions based on CEC's personas and the customer journey, a journey which can last several years — packing up and moving your business to a new country is a big life decision! These discussions helped us to design and streamline the site map while truly understanding what information is going to be relevant to prospective clients at each stage of their journey."

Kaitlyn Elphinstone — VP Marketing & Public Engagement, CEC.
The Solution: Custom Modules for Brand Consistency & Infinite Templates
"Cayman Enterprise City is growing and adding new initiatives all the time. We knew that they needed the flexibility for their site to grow and evolve with them. Using HubSpot CMS, we built the new site using Pattern-Driven Design; a framework that allows them to make infinite customized templates with their stylized and on-brand modules. Modules can be re-stacked and ordered as needed to make any editable, customized template they need. This approach is scalable and will keep their site looking great for years. Chose HubSpot also allows us to leverage advanced marketing automation and personalization tools, essential for the next stage of this project."

Tanya Wigmore — Chief Growth Officer, CRO:NYX Digital SEZC.
Customized HubSpot Modules
Local agency Walzzy SEZC created a brand guide that took CEC's look and feel from dark blacks and bright orange & yellow to a light-feeling site with real imagery and effective white space to show the beauty of the island and the vibrancy of the CEC community. Using this brand guide, we identified the repeating patterns on the site that could be used as customizable modules. We built these modules in a way that allows CEC to stack different modules on a page and customize their appearance, while maintaining brand guidelines and design aesthetic.
Example of a flexible column module that allows for a section heading, column image, column title, column description text, section text and CTA button. This module is used here with 4 columns and most features, and then used again later down the page with 5 columns and just images.
Remapping the Visitor Flow
Before we started building, the visitor flow of the website was reevaluated. Doing the persona work and revisiting the visitors flow identified pages that were not adding to the user experience. Consolidating and removing those pages helped the visitor experience and it made the site easier to manage and update.
The Results: A Beautiful Site & Improved KPIs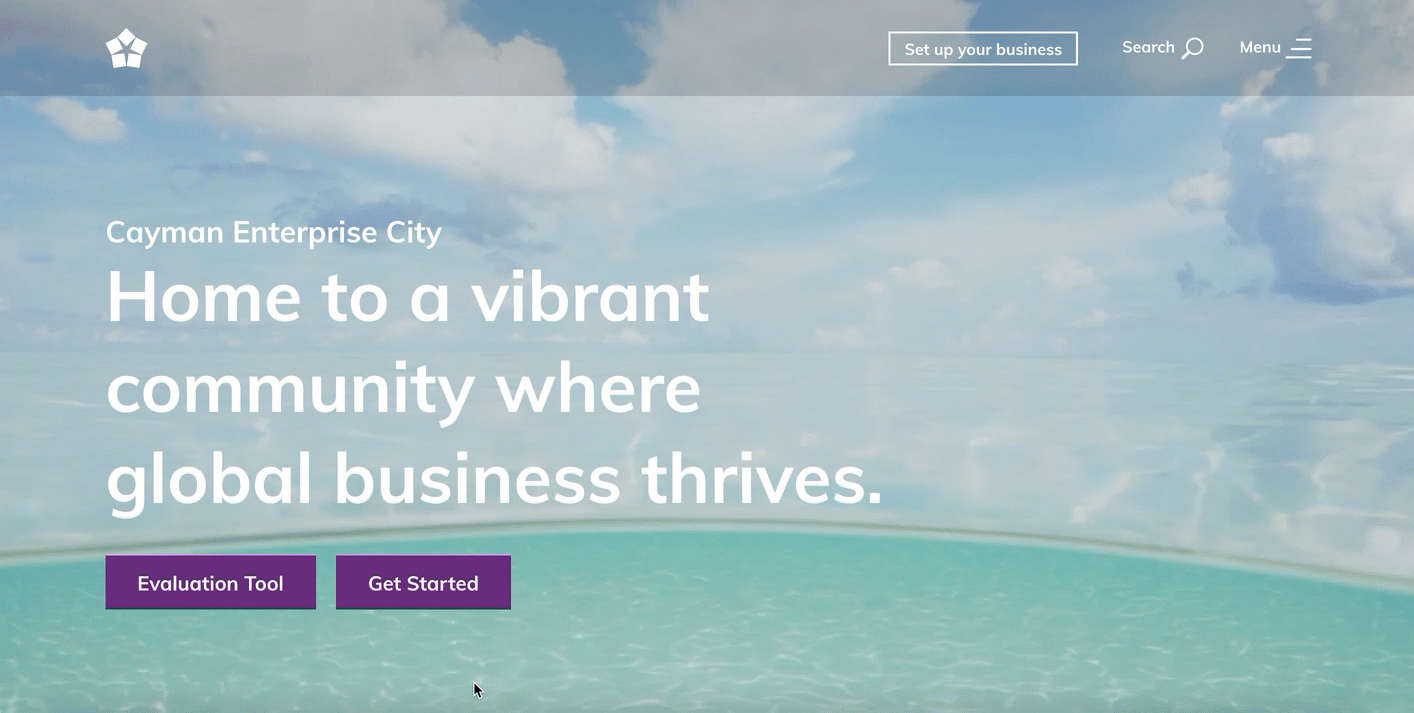 Larger displays feature a hero video while smaller device experience is improved by using a static image.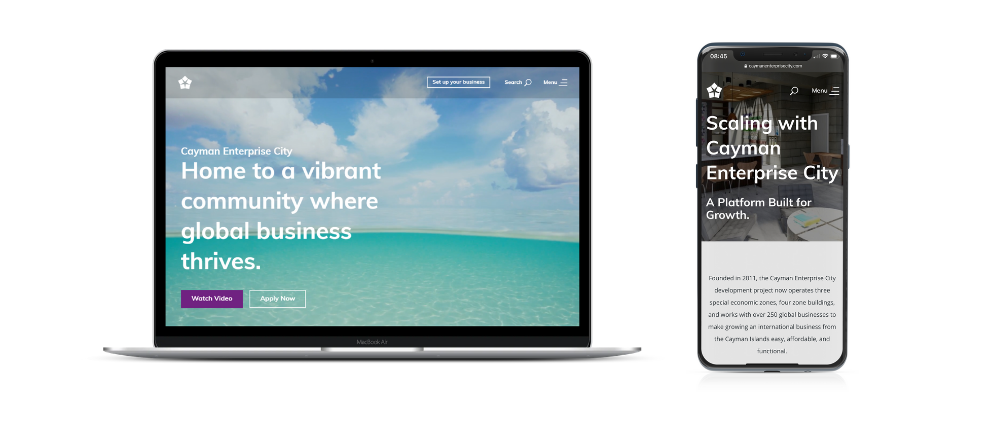 Our team was successfully able to deliver a website that will further advance and establish CEC's brand by reflecting credibility, clearly conveying CEC's offerings, showcasing the vibrant community of innovative entrepreneurs, and by reflecting CEC's significance as a hub for global business.
Using HubSpot CMS and a modular design approach, we were able to future-proof the website and keep it easy to manage and update for CEC's internal marketing team.
"The new CEC website features a clean design is reflective of its new and refreshed brand. The site now is easy to navigate, looks fresh, and it represents CEC's modern and progressive ethos. The new look and feel is now communicating what CEC has to offer and will do a much better job at persuading decision makers to move to the jurisdiction with CEC." Chris Wall — Founder, Walzzy SEZC.
Compared to last year we are noticing a spike in website sessions, new contacts, and new business.
Not only did the content consolidation improve user experience which we saw reflected in a decreased bounce rate and increased time on site, the reorganized content resulted in an immediate improvement in organic rankings and search traffic. Since launch we've seen a 43% increase of inbound leads each week!
64%

Increase in organic search traffic

15%

Increase in average session duration

43%

Increase in new contacts from online sources

6 weeks

These results are immediately following launch
While these immediate post-launch results are impressive we know that they will only increase as we utilize marketing automation & personalization tools in the HubSpot Marketing suite.
Greater Community Impact
The success of Cayman Enterprise City is much larger than helping their business grow. Each new knowledge-based company moving to the Cayman Islands in turn serves the needs of the community by diversifying the economy, serving as a platform for innovation, and providing meaningful opportunities for Caymanians and future generations to come.
Award-Winning HubSpot Websites
Ready to build an award-winning HubSpot website? Contact us! Our team of HubSpot designers, developers and strategists can help you build a website that drives conversions and makes a positive impact to your bottom line.