HubSpot is already a trusted tool to increase admissions at schools across North America. With the help of HubSpot you can engage prospective students every step of the admissions process and convert even more recruits than you have before.
Here's how you can enable your marketing, recruitment, and retention teams to work smarter and not harder with HubSpot as a unified platform.
Attracting Potential Students
Making the choice of which school or program to attend is a big commitment and students do a lot of research before making a decision. This is a big reason why it's important to have the right content built out, not only to gain the attention of those potential students, but also leave them with no unanswered questions.
A key step in the marketing toward students is to attract them to your school. This occurs in several different ways such as building referrals, social media marketing, advertising, and writing blogs to help get more visibility in the search results. You'll want to make sure all of your new and current content housed on your website is created with search engine optimization (SEO) in mind. Blogs, for example, are a great way to integrate keywords that will increase your website's appearance in search results.

Real Life Example: Casting a Wider Recruitment Net
We work with a post-secondary vocational college that offers programs for various trades. Prospective students have many questions about the practicality of the trade in question: will they get jobs and make decent money if they get this type of training? Questions they have are generally unrelated to the school or the program and are focused on the outcome; how much will they make, what jobs are available and are there jobs in their area. These questions can all be easily answered and utilized to improve website traffic and SEO ranking. Focusing on techniques like this will not only help your school gain more exposure, but it will also reduce the burden of these questions on your admissions team so that they may focus on connecting with prospective students who are ready to enroll.
Nurturing Recruits with Automation
When it comes to your school's landing pages, you'll want to make sure they include clear calls to actions, easy to find and use forms, and are focused on contact generation. Once you have their information, you can engage with them by sharing content that is unique to them, their intended area of study, and the stage in their admission journey that they are in.
Nurture campaigns are named nurture for a reason, they are all about nurturing the relationship with the prospective student. When someone visits your school's website, this is the beginning of a relationship, and the steps you take following this moment are essential to getting that enrollment.
With the help of HubSpot's tools, you can automate your follow-ups, making it easy to send out reminders about new enrollment dates, deadlines, or share student success stories. The key thing to keep in mind here is that by being consistently visible to prospective students, it increases the odds of being visible to them when the time is right for them to make their decision on a school or program.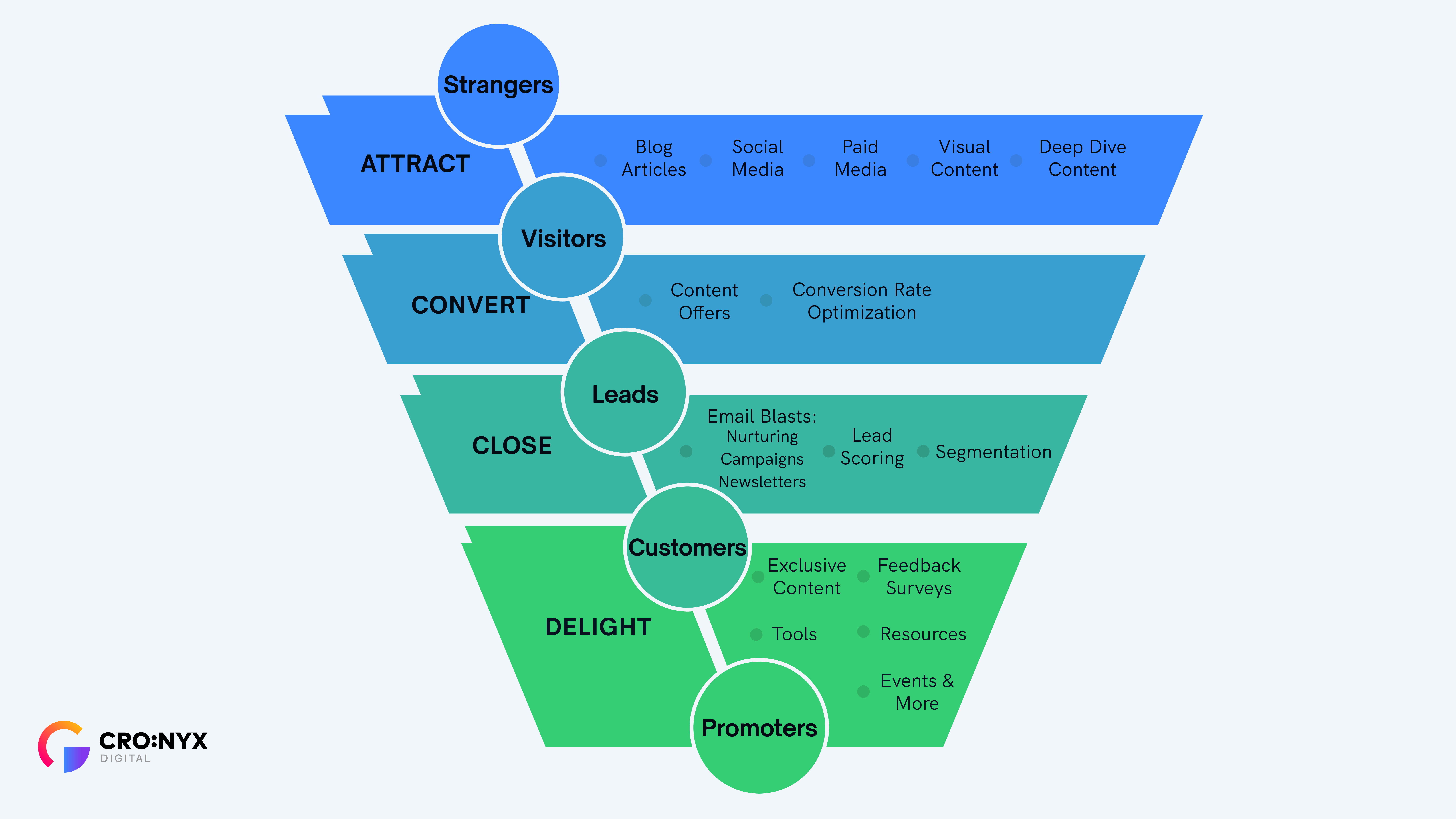 Case Study: What's the ROI of an MBA?
We work with a top-rated executive MBA program that receives numerous requests for their program's curriculum and tuition information and after conducting buyer persona research we found that the main objection for the majority of their recruits came down to one question: is an MBA worth the effort when I'm already established in my career.
To help show the value of their product we built an ROI calculator to show the investment of the program (cost), as well as their expected change in salary and position after completing the MBA program (based on alumni data of previous graduates + Glassdoor data) compared to the cost of 'doing nothing' (their current salary). This customized report was generated entirely with HubSpot calculated properties that allowed us to generate dynamic reports and effectively reach out to these potential students with personalized content.
We were able to create a nurture campaign for them and alert them of any upcoming enrollment dates and deadlines. Executive MBA recruits often sit on their plan to get their MBA for months or years until the time is right for their personal situation and our reminders helped to re-engage leads that were previously dropping off
Close the Loop
You can generate content and share it on any platform, but using a unified platform can exponentially increase your returns. HubSpot CMS allows you to integrate call-to-actions, track campaign metrics, and manage website performance while tying your conversion tracking through to actual student enrollments so you can get more accurate attribution reporting.
Once a prospective student becomes an enrolled student, there are still some steps that need to be taken to reflect and improve on the student's journey. Through HubSpot, you can use closed-loop analytics to gain insight into the impact your marketing campaigns and optimization has had on enrollment for your school. By gaining a better understanding of the student's experience, you can empathize and create a more efficient and intuitive user journey.
Are you ready to take your school's inbound marketing to the next level? We want to help you utilize HubSpot to increase admissions! Contact Us!