One of the awesome features of HubSpot Marketing Professional is the ability to have "Smart Content" - content that changes based on a visitors' location, language, lifecycle stage, interactions with your site, or a myriad of other things that you can custom determine in HubSpot. This is fantastic if you want to tailor your message to certain visitors, which you really should be doing.
One of the big gaps in smart content has been tracking - how do you know if that special content that you put in for repeat visitors or visitors from a certain country is actually working? Until now it's just been a big shrug and some fancy analytics to make an inference. That has all changed! 🎉
View HubSpot smart content performance by page
You will have added smart content to your site on a page by page basis. To see the analytics for that smart content, you will need to go to that page in your HubSpot portal. When you're in there you will see a new tab called "Smart Content".

How many of your visitors are seeing your smart content?
Until now, it's been hard to tell if your smart content is showing all the time, some of the time, or if it's showing at all. When you're in your dashboard, you'll be able to set your chart to "Views" where you'll get that information so you can see how often your visitors are seeing smart content vs default content. For this client, we're seeing that it's split almost 50/50. That's a pretty big split for content that is often forgotten about (that's your subtle reminder to check on your smart content RIGHT NOW if you haven't checked it in the last 30 days).

Is your HubSpot smart content converting better than your default content?
Hop on into some of your key converting pages. How is your smart content doing vs your default content when it comes to contact submissions? What about customers?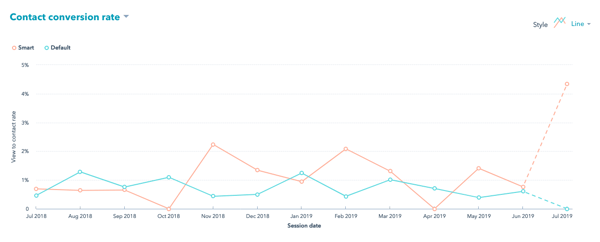 Below your chart, you'll have a data table that compares the conversion rates of your smart content to your default content.

For this page, you can see that the smart content outperformed the default content - yay! Smart content had a higher view to submission rate, view to contact rate and view to customer rate, which is the ultimate goal of this page. *high-five!*
Signs that your smart content isn't working
If you pop into a page to view the smart content stats and you see something like this 👇it's a sign that you'll want to reassess what you're targeting for smart content on this page. Unless you're going to a super micro-niche that's very likely to convert on this smart content, or if you have something that you specifically want to show different for these 16 page views, you should consider taking out this smart content targeting.

Gaps in HubSpot smart content reporting
While it's a huge step forward for reporting to see the smart content stats in HubSpot, there are still some gaps. For instance, what if you're running more than one content swap on a page? Let's say, you have default content for the US, smart content for Canada and another smart content rule for Australia. Your smart content for Canada and Australia are going to be lumped together here (side note: you can kinda-sorta get around that by looking at geolocation in Google Analytics, but that's not the point).
Alternately, if you have two smart content rules - let's say one based on location that's swapping out contact info in the footer and one that's swapping out an offer on the page for a contact list of existing customers, your reports are going to show you both of these swaps as 'smart content' lumped together so you can't really tell what's working to improve engagement, and what's not.
Overall, this is a big win for HubSpot reporting!
Our clients use HubSpot because they want to use marketing automation, smart content and workflows to curate a more tailored message to their audience. Being able to report on how smart content is working (or not) is huge for conversion rate optimization as it allows us to further optimize and improve conversion rates for each page and the message that we sculpt. While the new HubSpot smart content reporting isn't perfect, we'll take it!