We were recently asked by a client "can I target people who have visited my competitors' website?" This is a great question. The answer is "yes, to an extent" - here's how to do it.
Scenario
Let's assume you run an ecommerce website in Canada with your main product being coffee beans and coffee supplies. You've identified Pilot Coffee Roasters as a key competitor.
Create a Custom Audience
Let's try a display campaign. Display ads are most often visual/graphic-based ads which are shown on other people's websites that encourage their visitors to click the ads and go to the advertisers' site. These might be banner ads, rich media ads or video ads.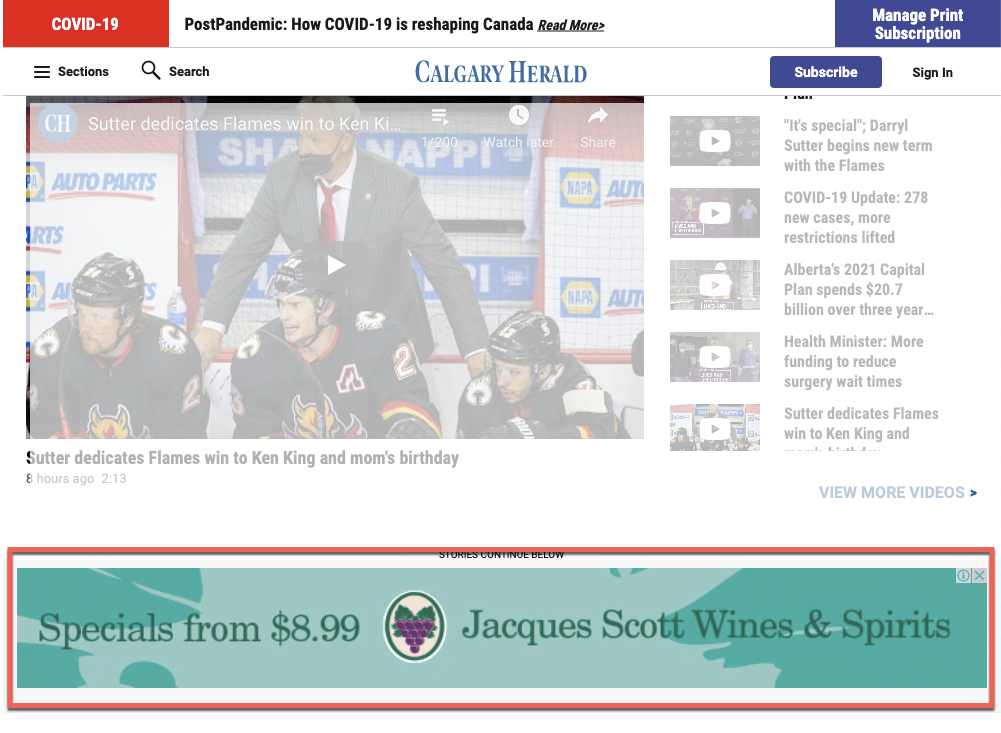 An example of a display ad for Jacques Scott Wines & Spirits in a banner on the Calgary Herald website.
In setting up our display ads, one key element for us to consider is targeting. You want to get really specific in who you are going to target to make your investment yield a positive ROI. In this case, we want to focus on the specific kind of person: someone who looks at the Pilot Coffee Roasters website.
In the ads set up , we can search or browse types of audiences. Under "browse" we can set up a custom audience.
From choosing "people who browse websites similar to" and entering our competitors' website, we can see some initial audience insights appear on the right-hand side. Already this is incredibly powerful information about who their customers are.
Refine Your Audience
At this stage of the set up, you might find that the audience you want to target is too specific. If the audience is too small, your ads may not get shown. If you're having issues getting your ads approved or getting any impressions due to an audience that is too narrow, you will want to consider expanding your targeting to include other competitor websites.
If your audience is too broad, then you're probably not being specific enough about who your competitor is. For example, a brand like Starbucks will have a really large audience size because of their ubiquity of their brand. In this case you'd want to narrow down that audience either by selecting a different competitor's site for your audience or by setting in specific targeting options for location, using negative keywords, and other Google Ads optimization techniques.
Run, Report, Refine
You will want to run the ads for a short period to see what impact they have and how many clicks and impressions they get. A 4-week trial should give you some useful metrics to work with to see if this is a viable audience to target and will give you lots of information on what you can do to further refine this audience and your other ad campaigns.
You can also use Google Analytics to delve into the insights to find out more about how this audience responds to your website. Using segments within Google Analytics will let you compare the experience of visitors from these display ads against another segment of your audience - for example, organic search traffic. How does the average visit time change between these audiences? How many pages do they visit?
If you find that your display segment isn't engaging with your site, then perhaps you need to adjust your targeting or the visuals of the ad.
If you're interested in how this ads strategy could work for your business, please get in touch with CRO:NYX about your paid advertising. We can also help you with your wider inbound marketing needs including content marketing, email marketing, social media and more.