If you're using HubSpot AND Salesforce in your organization it can be a bit confusing as to which platform is going to be used for what purpose and by whom. As a result, you can end up with TWO disaster CRMs full of bad data.
To keep things tidy and help each team member find success using HubSpot and Salesforce, we have these 5 simple tips.
1. Define the Purpose of Each Platform
When we work with an organization that's using both HubSpot and Salesforce, it tends to be that the marketing team is using HubSpot Marketing Hub for their lead gen initiatives and the sales team is using Salesforce for their CRM and deal management. However, this is not always the case. You need to get clear on your processes. Define who is using what platform and in what way, so you can make sure you don't get a blurry crossover and a CRM mess on your hands. Tracking becomes very difficult when some BDRs are adding their deals in HubSpot Sales while others are using Salesforce.
2. Document & Map Your Contact Properties
Standardized property naming convention in your CRM will go a long way to align your sales and marketing teams and to ensure a smooth Salesforce & HubSpot integration. Before you do any integration between HubSpot and Salesforce, review all the properties you'll want to sync and create a spreadsheet that maps what each one is called in each platform, what they're for, and if this is a standard or custom mapping. I'd also recommend identifying the Sync Rule for that property so you know where the data is coming from and to.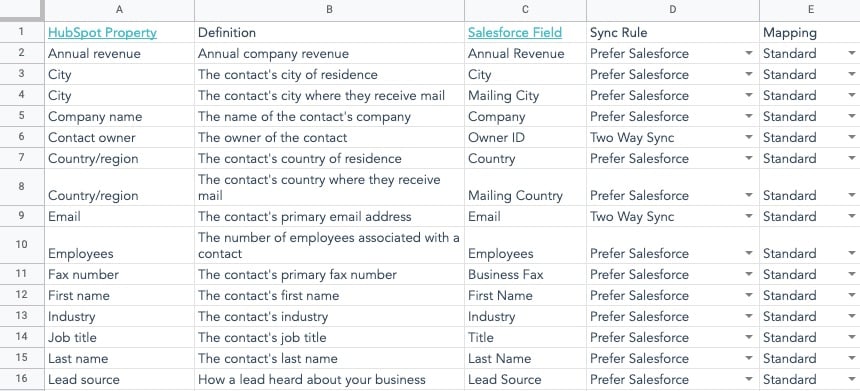 Depending on how aligned your sales and marketing teams have been to date, you may need to do some legwork here to identify all those properties that need to be synched. If you've been working in separate systems for some time, you may not even realize the properties that are important to the other members of your organization. One approach to creating alignment on your contact, company and deal properties is to work the customer flow backwards.
Identify which data you need to collect and when.
Starting with your client services team, what information do they need from sales when onboarding a new client? Ensure that sales is collecting that information in a format that client services can use and that the data is being passed over to the right department once that sale has closed.
What information does sales need from marketing when a lead moves to the sales team? This will inform what should be collected in forms, what the naming convention should be, and will help to provide better quality leads to the sales teams.
At what point should a contact be moved from marketing to sales or sales to client services?
Identifying indicators that a contact is moving from MQL to SQL is critical to ensure you're not overwhelming sales with under-qualified leads, and to ensure that marketing isn't sitting on hot leads that are going to convert elsewhere. This conversation should be an open and ongoing one with a regular feedback loop to tweak those indicators.
Similarly, when a lead becomes a customer, at what point do they get the handover while still feeling supported? This handover should also have specific qualifiers and a feedback loop to ensure a smooth transition for your new clients.
3. Sync with Discretion
After you've mapped your properties to each other via a spreadsheet and have created alignment on what needs to be synced to ensure the success of sales, marketing, customer service and all lines of business, you can start your sync. But before you turn it on, take a moment to review your CRM to see if there is any data that shouldn't be syncing.
You want to watch for a few things things:
You're respecting your API limits. Syncing everything is a sure way to reach your API limit super fast. Be selective about what you're syncing.
You're not overwriting critical data. You may not want to have data updates in one CRM update those in the other. Using inclusion lists, setting rules for directional syncs and being mindful of who has access to which platform and what they're using it for can help prevent data corruption scenarios.
You have a feedback loop to identify errors. Your HubSpot <> Salesforce integration dashboard will show you sync errors and warnings. Check on this weekly (at a minimum) to identify errors that HubSpot is finding with your sync. For more practical feedback on issues that might seem legit but aren't, have regular smarketing meetings with sales and marketing to review the contacts, companies, and deals that are being synced to identify any issues that are arising.
4. Get Feedback & Adjust as Needed
Having an automated data sync between Salesforce and HubSpot makes it pretty tempting to just stop talking to the other team, but it's more important that you still have regular check-ins between sales and marketing.
At a regular cadence you should be discussing:
What contacts are progressing or not, and why?
What are the common questions or objections sales is hearing and can the marketing be adjusted in response to those?
Is there any other information marketing should be collecting to help sales qualify leads?
Are there any data points that are being collected that are no longer being used?
Are either teams making adjustments to their processes to 'hack' their way around barriers they're encountering with either system?
Identifying and working on these issues together can solve them way faster and create much better results than working in silos.
5. Clean Your CRM Data Regularly
Over time, the properties that you're using and syncing will change. Workflows will change. Pipelines will change. Team members will change.
It is critical that you audit your CRM and your Salesforce <> HubSpot integration regularly to ensure that it's functioning and expected and that you don't have any legacy processes that are broken and creating a CRM nightmare in either platform.
How often you need to do this will depend on how many contacts you're managing but for most companies running a Salesforce <> HubSpot integration this should be done at least quarterly, if not monthly.
How clean is your HubSpot data? It's time for a data checkup! Contact us for more information on a HubSpot CRM audit.