Social media can drive leads, strengthen brand loyalty, and create a community for your audience. Many businesses can and are leaning heavily on social media as a revenue driver for their businesses with active posting and daily community management.
But, if you take your hands off the wheel and leave your social media unattended, you can inadvertently steer your business into a danger zone, creating frustration with your audience and negatively impacting your bottom line.
We liken social media platforms to an Iceberg because most people see the effort as minimal. You post a photo, add an emoji and you are good to go. However, that is not how it should be managed IF you want to see growth in the form of leads, revenue, engagement or community development. There is a surprising amount of effort that goes into a strategic social media program.
Below we have outlined SOME of what goes into creating a strategic social media post.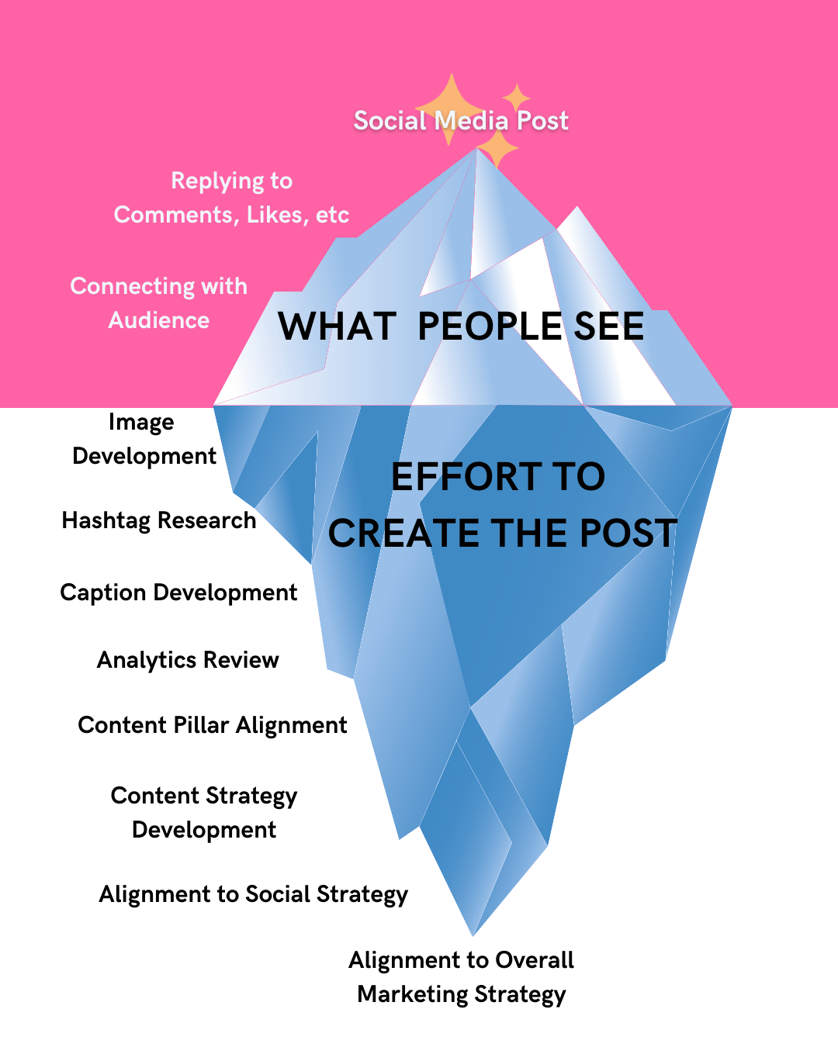 The Hidden Effort of Social Media Management
Image development
The best way to show up on social media is with an image that represents your brand, which includes your brand colours, fonts and logos/ watermarks. Although it is common to see repurposed images, it is not recommended as a business to avoid any potential copyright issues.
Trends for images are always changing; right now there is a huge retro font and vibrant colour trend in progress (June 2022). It is important to analyze your own performance and those of your competitors to ensure you are consistently driving engagement with your audience, growing all while respecting your brand guidelines.
Our go-to tool for image creation is Canva, but Photoshop is also utilized for some projects where further refinements are needed that Canva cannot do.
Hashtag Research
Hashtags are used to connect your content with your desired audience. Your hashtag strategy should be unique to your brand so there is no one hashtag set to rule the platform. There are plenty of high volume hashtags but what you should always remember is if there is a lot of opportunity, there is also a lot of competition, so if you want to gain the RIGHT audience, your posts should be relevant to those audiences. Note: each platform has different best practices for hashtag use.
Recommended process for selecting hashtags (per post for Facebook and Instagram):
Hashtag Volume: include a mix of high, medium and low volume hashtags
Be Specific to your Brand: #cronyxdigital
Be Specific to your Services: #webdevelopment, #paidsearch #socialmedia
Be Specific to your Target Audience: #smallbusinessowners #agencylife
Be Specific to your Target Audiences Location: #caymanislands, #calgary
Be Specific to your Post's content: #socialmediastrategy, #socialmediatips
Caption Development
The caption is the text accompanying the image and hashtags. This is another component that is ever changing with social media platforms so it is important to keep updated on social media platform updates for EACH platform. For example with Facebook and Instagram, in the past, captions that were long did well. Now, they are giving preference to shorter captions with the intent that creators will use the image/video component of the post to drive 90% of their message.
Key components of a caption:
A hook: This is a phrase that works to captivate the audience, and draw them into your post
Explanation: This helps to answer what the hook entices
Call to action: What do you want your audience to do now that they have read/ seen your post? You will get better results if you tell the audience what to do, such as: Share this, Like this, Book/ Buy now, etc.
Analytics Review
It is important to reflect back on your social media analytics to determine what your audience liked, didn't like and to gain perspective on what your next post should entail. Some considerations that you should consider:
Post Format: Did your audience like carousels, videos/reels or single image posts best
Metric Specific results: review what types of messaging, images or captions drove the most engagement and by what types such as likes, shares, saves, comments.
Competitive Review: While we believe that it's best to look inward for growth, it can be helpful to look within your competitive set/ your industry to see what is working for them as well. While you should not copy, you can get inspiration from others
Content Strategy
Your social media strategy should closely align with your content strategy. Content pillars are themes that help to ensure a well balanced social media strategy. The key pillars that we find to be most valuable to our clients fit within these 5 pillars (sharing some subtopics as well):
Educate: Tips, tricks, guides, tutorials, etc.
Promote: Client results, testimonials, services, etc.
Entertain: Memes, behind the scenes, industry trends, etc.
Inspire: Quotes, client journeys, success stories, before/after, etc.
Engage: Q&A, Questions, polls, etc.
We recommend that you choose 3-4 pillars and stick to them for at least a month, then continue to grow from there by keeping the themes that best fit your goals and replace those that underperform with another pillar.
Strategy Alignment by Marketing Focus:
Alignment To Social Media Strategy
Social media strategy should be specific to the platform but tie into the overall marketing strategy. Within this step, you are combining your content strategy with your social media strategy, which also ties into your marketing strategy overall.
Some examples of social media specific goals may be:
Organically grow followers by x% each month
Increase engagement reach by x% each month
Increase reach by x% each month
Drive x% of leads/sales/purchases each month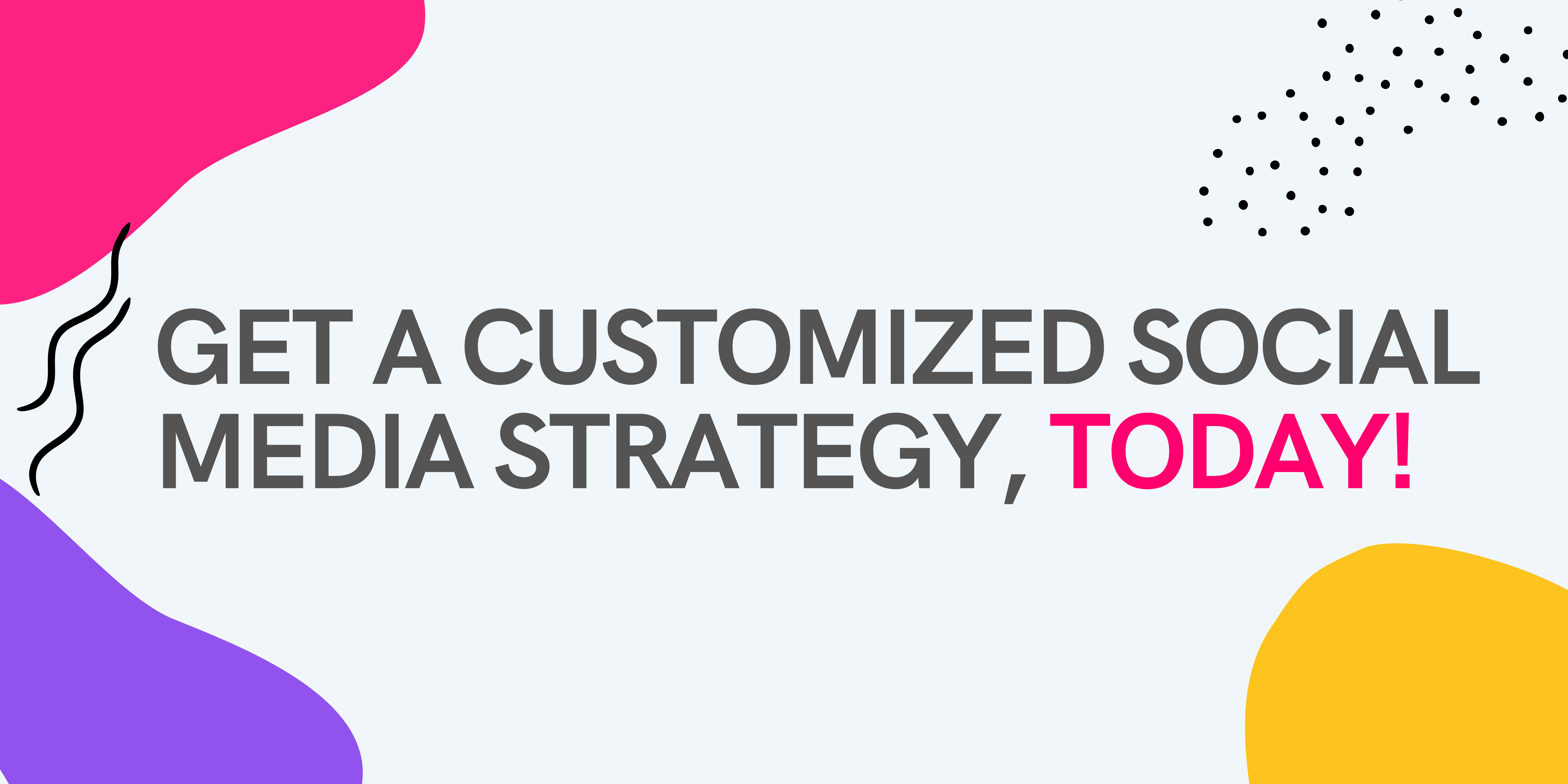 Alignment To Overall Marketing Strategy
Social media efforts should fit into your organization's overall marketing strategy by ensuring that the goals of the overall organization are also reflected in the social media plans. This ensures that everyone is aligned, while customizing efforts to best fit the target audience, in this case, our social media followers.
Basic Marketing Strategy components:
Who is your target audience?
What motivates your target audience to buy your product or service?
Who are your competitors and what are they doing worth emulating or straying from?
How do you measure success? What does success look like?


If you are feeling a little overwhelmed by this information, you are not alone. Many of our clients come to us knowing that there is value in being active on social media but they don't have the time or the specific expertise to do it strategically.
At CRO:NYX Digital, we offer three levels of support if you do find yourself considering support. Our social media experts have over a decade of experience and are actively learning as the landscape changes (which happens often!).
For more information about our service offerings, https://www.cronyxdigital.com/social-media-marketing