Stop Making Major Edits to Live Pages
Staging Test Page vs Editing a Live Page
Copy edits, image tweaks and minor changes to a page can be made and updated to a live page without too much worry most of the time. But when you're moving content around, changing functionality or shifting the design of a page, you'll want to test that it's displaying and functioning as it should before you push it live.
SEO Problems with "Staged" WordPress Pages
We tend to see two approaches to testing pages in WordPress:
A new version page that will replace the live page.


When you clone an existing page or create a new page that you will then replace the live page with. Most of the issues with this 'build and replace' method come from auto-generated links, redirects and menus.


Why this approach works:

You're not altering the current page in any way and and don't need to walk back changes should you change your vision or just change your mind about the new page.
You can go wildly different without being constrained to the website template or modules added to that page.

Where problems creep in:

The biggest problem here comes in URL changes on the site. If your site isn't doing any fancy URL rewrites you can simply rename the current page to something different and then update the URL of the new page to match what the old page was, problem solved. However, if your WordPress instance puts in redirects for URLs that change you'll have to make sure that you're watching and removing those redirects that are being auto-generated.
If you have a menu that is linking to a specific URL, you're fine once the page URLs have been renamed (as long as you're keeping your URLs the same). However, if you're linking to specific pages in your CMS, you'll need to update your menus to reference the new page and not the old one that you removed.
Too often, key page info like title tags, meta tags and schema get lost in the transition of creating an entirely new page to replace the existing page.

Making edits to the live page, just not publishing them to the live site yet.


The momentary panic and uncertainty that hits you when you open a page in WordPress and get the notice that "This page has unpublished changes" is enough to make you question the entire history of that page. Who has been editing it? What have they changed? Why were those changes saved but not published? Editing the existing live page is easy enough to do, but it can be a much larger problem if you're not pushing them live right away.


Why this approach works:

It's easy. Open the page, make edits, view the preview link and you're good to go.
No URL rewrites or redirects.
No menu or internal link updates.

Where problems creep in:

When you have a page with saved, unpublished changes waiting approval or launch but other, more immediate changes need to be made to the live page. In this scenario you're likely either going to unknowingly publish the saved unpublished changes too soon or you'll revert back to a previous version of the page, losing your edits.
When you don't know if someone else has been making changes to the page.
You will often not be able to make large structural changes or change templates of a page without affecting the live page.
HubSpot CMS Manages Content Staging Better than WordPress
HubSpot CMS has a staging tool that helps to solve these common WordPress staging issues and makes content updates a breeze. Here's what's different.
Staged Pages Don't Affect Live Pages
HubSpot's Staging tools operate similarly to cloning pages in HubSpot, though you do it in the "Content Staging" tools.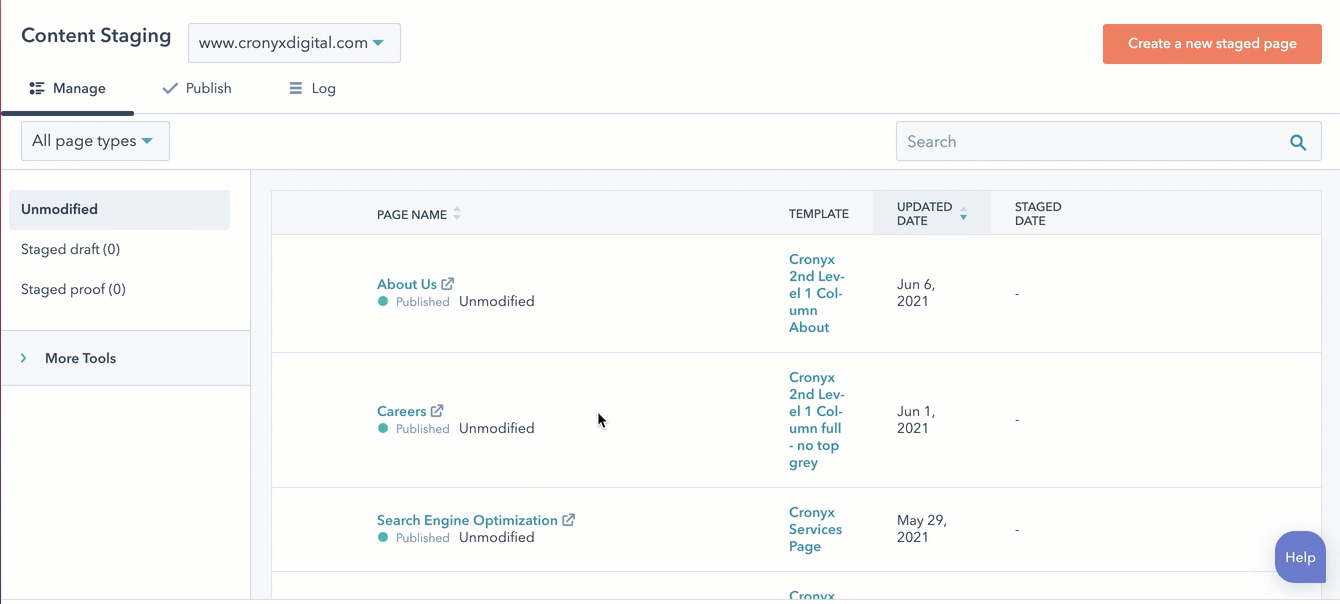 You Can Change Page Templates, Modules & Content
The sky's the limit! Even if you clone a page, you're not stuck with that template or content. You can adjust anything in the page you want to and create a totally different experience. You'll be happy to hear that if you've ever tried to swap modules in a live page that you're editing and have lost your content!
Preview Link for Sharing & Approvals
HubSpot's sharable preview link is a great asset for teams with multiple stakeholders and rounds of approval. Unlike WordPress where you generally need to login to see unpublished pages, you can share HubSpot preview links without having to login to the HubSpot portal. You can also toggle mobile, tablet and desktop views within the preview screen to easily spot any responsive website issues.
Automatic Updates of Internal Links
When published through the Content Staging section of the site, HubSpot will automatically replace the current page on the site, keeping the current URL intact and all internal links and menu links intact as well. This is a huge win for your SEO team!
Staging & Launching a New Site
When launching a new website it's not uncommon to have loads of redirects that need to be added and several post-launch crawls to identify 404s. Using HubSpot content staging to create your new pages reduces a huge amount of work in that process. It's a win-win of time saved and SEO value retained in the website redesign process.
Ready to Build a New HubSpot Site?
Our team has built award-winning HubSpot websites and would love to help you on your next project. Contact us today to set up a discovery call.