Creating Hope Through Visual Design
The Cayman Islands Cancer Society (CICS) is a non-profit charitable organization established in 1995.

It receives no assistance from the government and is entirely reliant on donations which is receives from individuals and corporations. We began volunteering our time to help with the CICS website in 2016 and in 2021 we offered our support and services for a full website redesign.
Challenge: Cancer Stigma is Real and People are Ashamed to Speak Up
We had been volunteering with CICS for several years before we approached them about a redesign. Their site was getting dated, was content heavy, hard to navigate and didn't drive any feeling of trust or support. We knew that it could be improved and that a fresh look and feel would be helpful to bring forward more people who were otherwise too ashamed to speak up and get the support that could make a difference in their lives.
Solution: Bringing Positivity & Hope by Showing the Support Network & Success Stories
The team of the Cayman Islands Cancer Society really shines and is the reason people keep coming back to the foundation for support. Their commitment and compassion are exemplary and we wanted to show that on the site to help reaffirm to new visitors that they could trust the CICS team and that they'd be in good hands.
To do so we leaned heavily on team images, showcased their personality, got a bit goofy, and ensured that the team would come across as approachable. Team images were crucial for this as we noticed that much of the CICS feedback was directly to the team and their specific support.
While we were reworking imagery on the website, we reworked the site architecture to highlight the four key support pillars of CICS:
Public Health Initiatives
Financial Aid & Assistance
Prevention & Education
Voucher Program
We noticed that their website visitors were visiting the site primarily on mobile devices so we made sure to improve the mobile experience.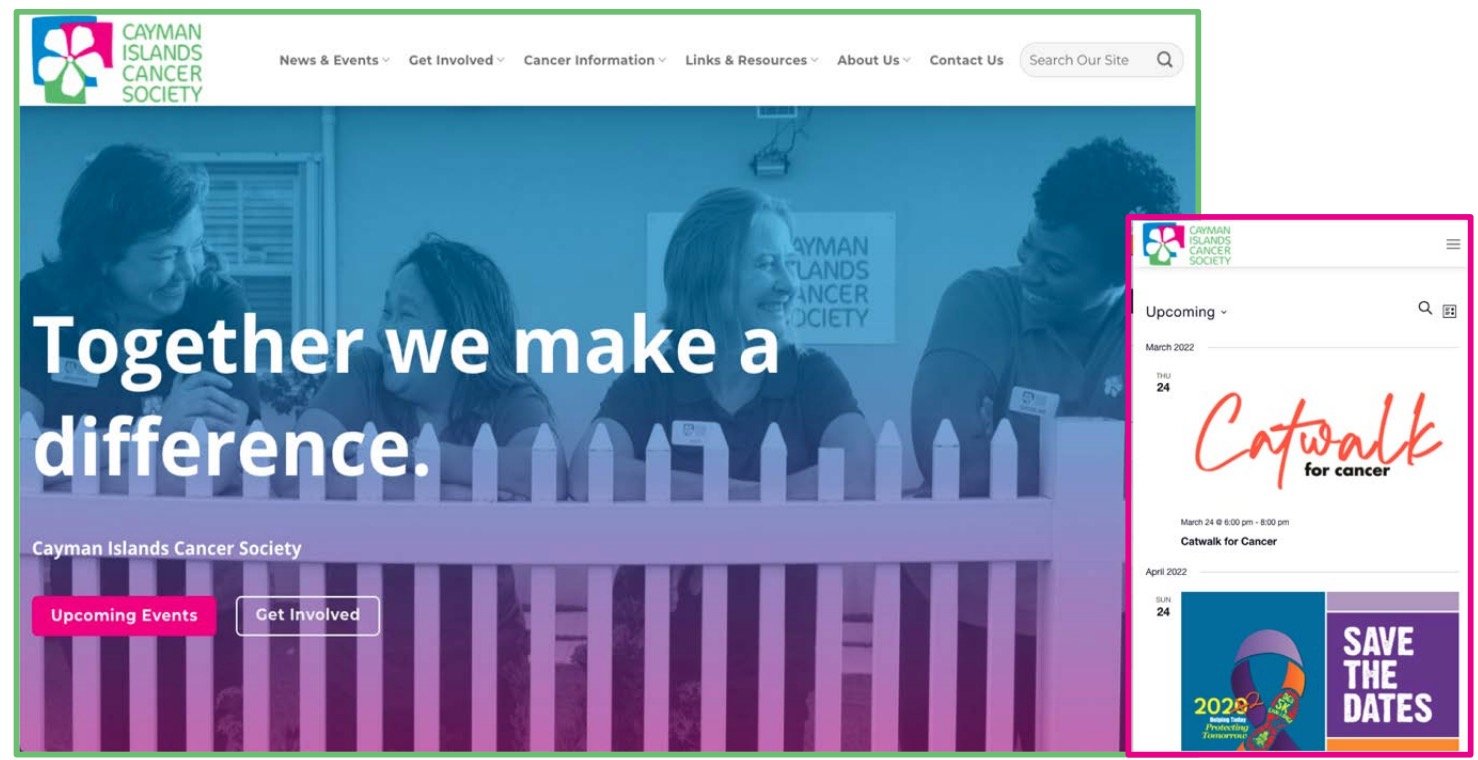 We helped to redesign the website while Three Rock Media helped with their social media.
Outcome: Supporting More Families than Ever
With ZERO marketing dollars put towards this project we were able to enable the Cayman Islands Cancer Society to help 61 families in the Cayman Islands in 2021.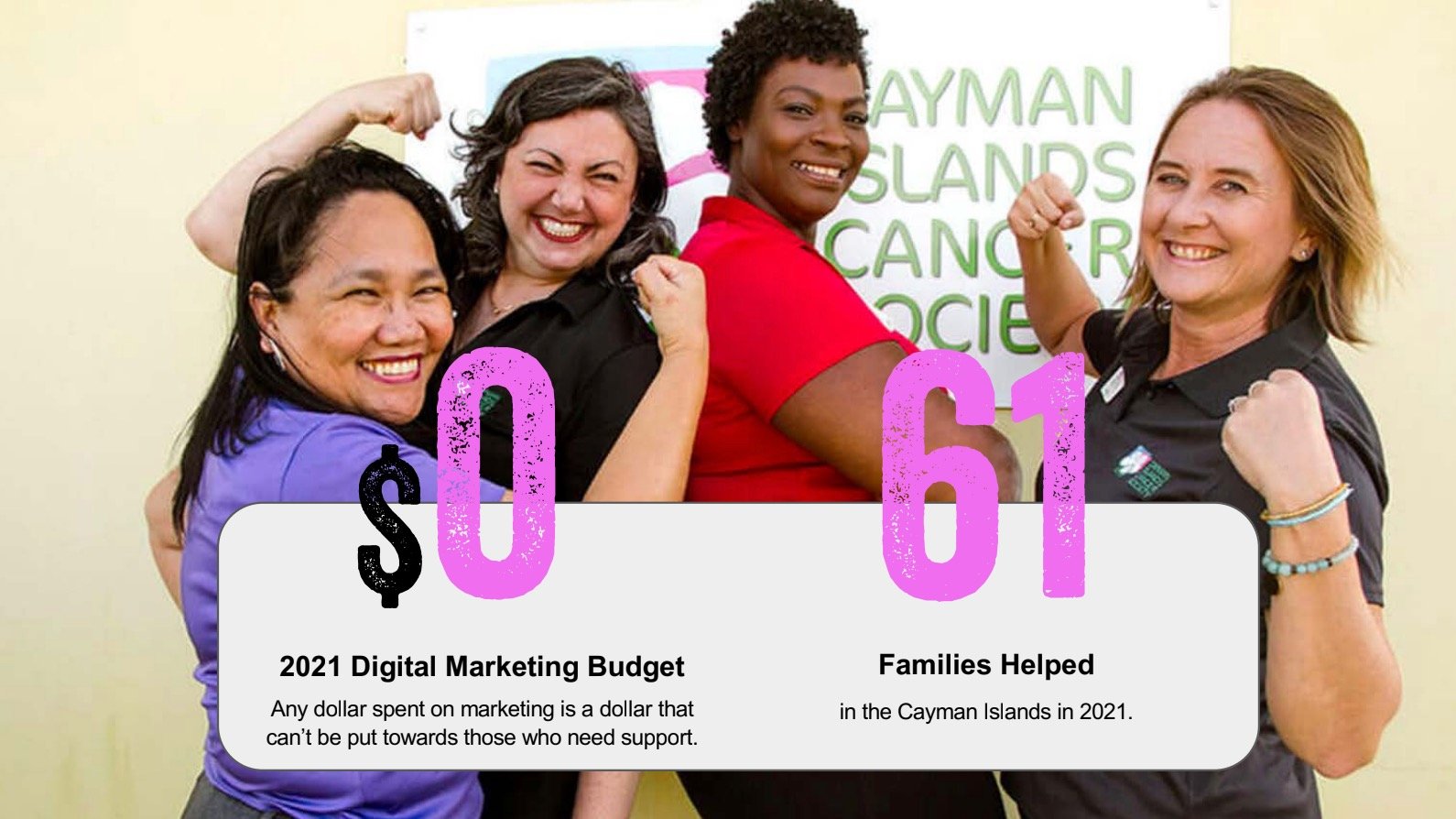 Client Feedback:
The impact of what Tanya at CRO:NYX Digital and Mel at Three Rock Media have done for us cannot be overstated. What they did literally impacted everything from education and awareness to fundraising and our profile in the community.

Tanya created a completely new, fresh, upbeat website for us so members of the community could just on the website and quickly find whatever information about who we are and what we do. Mel created a year-long social media plan to make sure our Instagram and FB messages were tying together everything we were doing for the community. Together the website and the social media fully integrated our messages!

Thanks to this dynamic duo, when we had an event, they got the word out. Mel piqued everyone's interest through Instagram and Facebook posts, which drove them to the website where Tanya had the information waiting.

The one-two punch of social media and the website were just what we needed! Together Tanya and Mel's efforts increased event attendance which increased fundraising. They increased community awareness of the specific cancer awareness topics we focused on each month, and motivated people to go to their doctor to get checked out.

We had more people calling and stopping into the office saying, "I saw that you have a voucher program...." More people learned more about our vouchers and if they didn't need the vouchers, they learned more about how their health insurance worked so they could maximize the benefits they have to pay for things like cancer screening tests. Our website is full of pictures of staff and our posts highlight all the people they see on our website. The community has become more engaged and aware of who we are as a staff and what we do as an organization.
Ready to work together? Let's talk!
This campaign was nominated and shortlisted for the Community Impact Award for the Cayman Islands Marketing Association Awards in 2022.